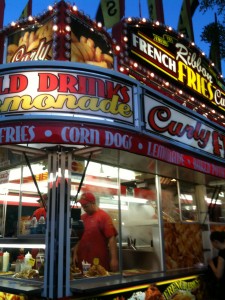 Fair warning, this post will definitely not be looked upon favorably by the First Lady. But the State Fair wouldn't be the State Fair if there weren't greasy, fried, cholesterol and sugar-laden food to partake of. Anything in moderation, right?
First a few cool things happening on this first Sunday at the fair.
The 28th Annual Milk Run begins at 7:45 on Randall Avenue.
Today is Minnesota Cooks Day. What better day to highlight all of our favorite fair food finds? Be sure to stop by Carousel Park where different chefs and cooks will be doing demos, presentations, and offering samples and recipe ideas all day long. If all that fried food is a drag for you, try some Grilled Gilbertson's Sweet Corn, Summer Heirloom Tomato Salad, Lake Superior Smoked Whitefish, Bison Tartare, Minnesota Prairie Wine Vinaigrette, or a Sabich Sandwich.
See graceful and beautiful trained horses perform at the English Horse Shows at Warner Coliseum. Free shows are at 8:30, 12:00 & 6:00.
Want to get in a full day at the fair, but that Catholic guilt holding you back? No problem, attend a 30-minute quickie Mass at the Baldwin Park Stage at 9:15.
Check out the Bee & Honey Exhibit at the Agriculture Horticulture Building. Special demos about cooking with honey are at 11:00, 11:30 & 12:00.
Much more than your father's Rock 'Em Sock 'Em Robots. The High School Robot Competitions are taking place in the Education Building at 10:00, 12:00 & 3:00.
Be a Karaoke star at The Garden, then stay for tonight's live band, Greene & Hurst from 7-11pm.
Now, onto the FOOD.
A great feature of the Minnesota State Fair website and iPhone/Android app is the Food Finder. Type in what you're looking for, and you'll be taken to a range of options, or to exactly what you want. You'll have a great time finding your own personal indulgences, but we thought we'd suggest some of our favorites too.
Apple Dumplings. Hot and served with ice cream. $2 off with Blue Ribbon Bargain Book coupon. State Fair Map (X-14)
Axel's. Bull Bites (blackened tenderloin tips with horseradish) are a local favorite. State Fair Map (U-26)
Bayou Bob's. Got a hankerin' for some Alligator? Try it deep fried, sautéed, or sausage. State Fair Map (P-24)
Cheese Curds. How can you not? State Fair Map (U-10)
Dairy Goodness Bar. Only the freshest and best Ice Cream you'll ever have. The writer and her husband (then boyfriend) waited in line for a half hour once, only for him to take one lick of his double-scoop of vanilla to have it fall off the cone right into remnants of some horse droppings. He was seriously wrestling with the idea of picking it up until she saw the grave disappointment in his eyes, and gave him a scoop of hers.
Foot Long Hot Dogs. Load it up with onions, ketchup, mustard and relish. Six locations. State Fair Map (K-26, U-23, P-27, X-17, M-30, R-29)
Lynn's Lefse. Lefse served with butter, sugar, cinnamon, peanut butter, lingonberries, whipped cream. Swedish Meatballs too!  State Fair (Map T-26)
Ole and Lena's. Where else are you gonna get Tater Tot Hot Dish on-a-stick? State Fair Map (J-28)
Shanghaied Henri's. Sushi is on the menu for the first time this year. State Fair Map (U-30)
Smokin' Joe's Smokehouse. Beef Sticks, Beef Jerky, Turkey Jerky, Wild Game Sticks. $1.25 off a giant hickory-smoked or spicy beef stick with your Blue Ribbon Bargain Book coupon. State Fair Map (V-13)
Tejas. Upscale Mexican food. This year try their new Chicken Nachos On-A-Stick. $2.25 off chicken wild rice burrito or guacamole and chips with Blue Ribbon Bargain book coupon. State Fair Map (T-24)
Tom Thumb Donuts. Mini-Donuts, fresh out of the fryer, rolled in cinnamon-sugar. Two locations. State Fair Map (R-27, U-21)
Walleye On A Stick. Minnesota's signature dish? Get your Walleye on a stick, on a bun, or in a boat. Catfish, smelt, and hushpuppies too! Check your Blue Ribbon Bargain book for coupons. State Fair Map (T-26)
West Indies Soul Food. Jamaican patties, Jerk Chicken & Pork, and sweet potato pie. State Fair Map (U-30)
World's Greatest French Fries. See for yourself. Fresh cut potatoes. Blue Ribbon Bargain Book discounts available. State Fair Map (R-24)
Remember to check mnstatefair.org (How did people go to the State Fair before the Internet was born?) for everything you need to know. We're still giving away tickets, so if you haven't registered already, don't miss your chance to win! Tomorrow we'll bring you the Guys Guide to the State Fair!