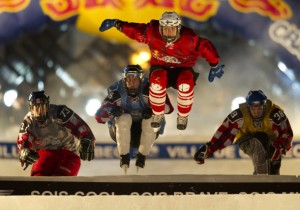 The last time Red Bull was in town, hosting the incredibly successful Flugtag (which was featured on 365 Twin Cities Day 109), Twin Citians made it clear that the folks from Red Bull were welcome back anytime.
The feeling was apparently mutual as Red Bull is returning, this time with an event that is more familiar to us native inhabitants of extreme cold. Dubbed Red Bull Crashed Ice, the event features a challenging and fierce downhill ice cross race, to be hosted in St. Paul this January 12-14, 2012.
If you are envisioning a basic downhill course, think again; Red Bull is not known for doing things the easy way. The course is anything but straightforward, consisting of a steep, icy track freckled with intimidating twists and turns, jumps, rollers, and other obstacles that can only be tamed by the most agile, tough, and courageous competitors. Even though participants come from a variety of athletic backgrounds – including hockey, downhill skiing, speed skating, etc. – the one thing they all share is the cohonies to tackle the challenging, treacherous course devised by the wunderkinds who brought us Flugtag.
Seven qualifying races for Red Bull Crashed Ice (United States) are being held in select cities, with one upcoming in St. Paul on December 13. After the qualifiers are finished, the speediest 100 contestants from around the world will compete for the glory of being recognized as the toughest, fastest, most extreme competitor to brave the intimidating ice track. Contestants will compete head-to-head, four-at-a-time on a slick downhill course, with the first two to cross the finish line advancing on to the next round. Round by round, contestants will be eliminated until only four remain, at which point a final race for the honor of becoming Red Bull Crashed Ice champion will take place.
St. Paul is to be the first of four in the series of Red Bull Crashed Ice World Championship races. Competitors earn points at each race – based on how well they place – to be totaled up at the end of the season. Whoever earns the most points over the course of the four championship races is awarded the title of Red Bull Crashed Ice champion.
Last year's champ, Arttu Pihlainen of Finland, had this to say about Crashed Ice: "We all have an itch to hit and go fast, and Red Bull Crashed Ice feeds that desire like nothing else." Quench your thirst for fierce competition and extreme racing right here in St. Paul at 2012's Red Bull Crashed Ice World Championship Race.
Red Bull Crashed Ice World Championship 2012 Race Dates
*Saint Paul, MN (USA) January 12-14
Valkenburg (NED) February 2-4
Aare (SWE) February 16-18
Quebec City (CAN) March 15-17
*Pre-registration is closed for this event, but it is free to watch on race day
For more information regarding registration, training, official rules, past competitions and more, visit the Red Bull Crashed Ice 2012 website.
For more news, updates and exclusive info: