ProjectAl, a Minneapolis-based company with strong roots in the local community, designs and sells t-shirts that promote independent Twin Cities businesses and give to local charities. They partner up with local bars and restaurants and create original artwork that is screen-printed on high-quality t-shirts. The tees are sold exclusively at projectal.com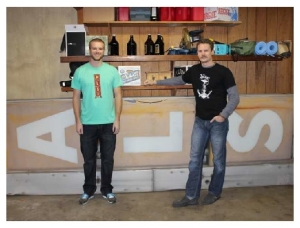 Portions of the proceeds for every shirt sold are shared with the business represented on the tee along with local charities. "Our goal is to create a community that celebrates our local landmarks," says Charley Holden, ProjectAl co-founder. "What better way to promote what you support, than on the front of your t-shirt."
ProjectAl was named in tribute to Al's Bar, a long standing neighborhood tavern in St. Louis Park that closed its doors in 2009.
A few of the businesses represented on ProjectAl shirts include Anchor Fish & Chips, the Red Dragon, The Muddy Pig and the Cabooze. A couple of shirts were also created to pay tribute to departed establishments, including Al's Bar and the Uptown Bar & Cafe. ProjectAl plans on adding shirts for local breweries, record stores, cafes and other brick and mortar businesses in the near future. "We set out to remind people of how important local businesses are to our community," said Derek Hood, ProjectAl co-founder.
ProjectAl is offering a special offer for 365 readers. Enter the code 365TC during the checkout process to receive 30% off your entire order. This offer is valid until July 4th.