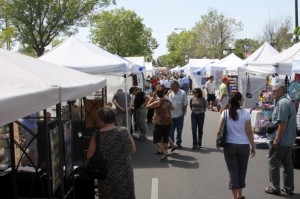 Summer time definitely brings the festivals in force, doesn't it?
If, by chance you're not going to Aquatenniel Festival or something else, Highland Fest in St. Paul's Highland Park neighborhood is worth a visit.
Ford Parkway will be blocked off from Fairview to Cretin from Friday July 16th to Sunday the 18th to make room for tents full of local artisans, a food court filled with concessions and restaurants, area businesses and services, and a stage for local entertainers and musicians to perform.
The area will be sectioned off with separate areas for each activity. There will be three food courts–one at Finn St., one at Cleveland, and one at Kenneth. The open field east of Kenneth and adjacent to the Library will be where the main stage is. This stage, sponsored by Treasure Island Resort and Casino, will feature Roster McCabe and a set by The Irresistibles (featuring Mick Sterling) on Friday. Then Saturday is a full day with local acts such as Romatica, The Alarmists, The Shimmy Twins: Belly Dancers, and G.B. Leighton. On Sunday the Swing Daddies and The Rockin' Hollywoods will both play sets. Check out the festival map with a full schedule of events for the weekend.
The area near the library will also feature a beer/beverage tent, amusement rides and carnival games, restrooms, and will be the site for two fireworks shows, Friday and Saturday nights, around 10:30 immediately following the last performances on the Treasure Island Stage.
The Artists' Quarter is the section from Kenneth to Cleveland and will feature the wares of local artisans. From jewelry and ceramics to prints and photography, and everything in between, this will be a great place to find a piece for your cool new pad, or a unique gift for someone who's difficult to shop for.
From Cleveland to Finn St. there will be a food court, the Home Improvement Expo, the Business Fair, another food court, and the 2nd Stage, respectively. Stage 2 is sponsored by Pinehurst Bank and will feature bands, Irish dancers and other entertainment throughout the festival.
Ford Motors will also be on the street near the library offering visitors a look at the brand new Ford Fiestas. I test-drove one of these last summer when they were still only available in Europe and they are AWESOME. Of course you'll be able to test-drive one as well. They became available in the U.S. earlier this spring.
Although the event itself is free to attend, bring some cash for food, art and other stuff.
For more information on the festival, volunteer opportunities, to register for the softball tournament or the 5K, contact the Highland Business Association at (651) 699-9042 or visit the festival website.