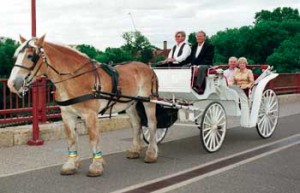 The forecast calls for beautiful fall weather pretty much all week. Sounds like a perfect time to enjoy more outdoor activities in the area.
A perfect way to enjoy a gorgeous fall afternoon or evening is to take a horse drawn carriage tour. The Hitching Company of Minneapolis offers you a chance to do so with a variety of tours available.
The Grand City Tour is the longest tour at 60 minutes. There are two different routes to choose from depending upon your starting point. One tour takes you through the cobblestone street in St. Anthony Main, across the Stone Arch Bridge, through the Mill District, Warehouse District, and the Nicollet Island Inn. The other tour takes you on a journey from Downtown, Nicollet Mall, Loring Park, The Basilica, through the Theatre District and Orchestra Hall.
There is also a 30 minute tour with similar but shorter routes. The 30 minute tours are called Taste of the City Tours. The third option is the A Peek at the City Tour and lasts 15 minutes. Visit the Tours page for pricing and schedules.
Right now the Hitching Company is in its Fall Season, which runs September – December. During this season, rides Sunday through Thursday are by appointment only, and Friday and Saturday nights from 6:30 to midnight. Reservations are recommended for the Grand City Tour, but all others are first come first served.
The Hitching Company is also available for weddings and special events year round. Just call (612) 338-7777 for reservations or info.
For details and other information, visit www.thehitchingcompany.com, or email info@thehitchingcompany.com.