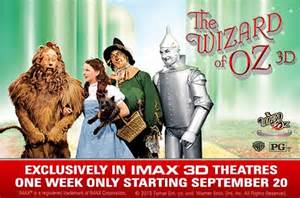 Originally released in 1939, the iconic movie, The Wizard of Oz has been digitally re-mastered and released in IMAX 3D in celebration of its 75th anniversary. In an experience like no other, you can see this classic adaptation of L. Frank Baum's story of a Kansas girl and her dog who travel over the rainbow. It's only out for a limited one-week engagement, so don't wait. It's the movie that made Judy Garland a household name and until now you've probably only seen it once a year on television.
http://www.imax.com/movies/m/the-wizard-of-oz-an-imax-3d-experience/
The film will run from September 20-25 in four Twin Cities theaters. Check with the venue near you for showtimes.
AMC Arbor Lakes 16
12575 Elm Creek Blvd, Maple Grove
AMC Eden Prairie Mall 18
8251 Flying Cloud Drive, Eden Prairie
AMC Rosedale 14
850 Rosedale Center, Roseville
AMC Southdale 16
400 Southdale Center, Edina