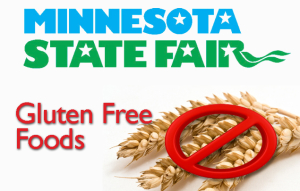 One of the goals of the fine folks at the Minnesota State Fair is to make it so that as many people as possible can enjoy the event. We mentioned yesterday their commitment to universal accessibility. Today, we take a look at a different kind of "accessibility."
Celiac disease and gluten intolerance are hot buttons for health in our modern culture. These conditions make lives inconvenient, particularly in the grocery store and at restaurants. Fortunately, awareness is spreading and concessions are being made in these areas, and the Northland Celiac Support Group has taken the awareness and packaged it up neatly with some suggestions for gluten free indulging at the Great Minnesota Get-Together this year.
See the full list of gluten free options for a comprehensive guide. Here and now, we'd like to highlight a few options.
Café Caribe
Located in the Arcade Building, Next to DNR
Offering: New Grist—US-Certified GlutenFree Beer (Lakefront Brewery), Minnesota Produced Wines & Wine "Cocktails" made with Fruit Juices.
So, yeah. Grab a gluten-free cocktail or beer to kick off your State Fair experience. Great idea? Why not?
Coasters
Located at Carnes and Liggett
Offering: Omelets, Chicken Breasts, Hot Dogs, Hamburgers, Salads, Steak, Prime Rib.
Standard grill fare similar to what you'd offer at a backyard BBQ. Oh, and omlets.
Java Jive
Located in front of Grandstand under 2nd Floor Walkway
Offering: Espresso and Tea Drinks served with gluten-free soy milk to satisfy the hipster in you.
Key Lime Pie Bar & Island Way Sorbet
Located next to Skyride (Across from Food Bldg/Food Court)
Offering: Island Way Sorbet, Coconut, Pineapple, Pina Colada, and Orange/Mango in Natural Fruit Shells. Gluten free frozen treats! What can be wrong with that?
Taco King
Located on Judson Ave. Near "All the Milk You Can Drink"
Offering: Beef; Chicken & Bean Tostadas; Nacho Chips & Cheese; Beef, Chicken or Beans Nacho Grande. Ask for Corn Tortilla or Corn Chips to avoid wheat flour and you're set!
San Felipe Tacos
Located in the Food Building
Offering: Request a Corn Tortilla for the following: Beef Taco, Jerk Chicken Taco without the Jerk Sauce, Vegetarian Taco, Nachos Grande, and Nachos & Cheese. Mmmm…tacos. Who doesn't love those?
Fudge Folks, Inc.
Located at the Grandstand (Lower Level)
Offering: Fudge, just like Grandma used to make. 'Nuff said.
French Meadow Café
Location: Carnes Ave—Across From WCCO Radio & Under Giant Slide.
Offering: Vanilla & Chocolate Cupcakes, Brownies, Chocolate Chip Cookies, Blueberry Muffins, Risotto Poppers, Scones, Lavender Cupcakes & Assorted Muffins. It's a whole big gluten-free Bake-a-palooza!
Texas Steak Out
Location: Machinery Hill Across from Little Farm Hands
Offering: Tater Twister, Tator Dogs, Turkey Leg, Brisket, BBQ Beef Ribs, Sausage On A Stick, Roasted Corn, Baked Potato, Steak Chili, Texas Steak Dinner On A Stick (without the roll).
Also look for O'Gara's at the Fair for some great fare and gluten-free brews, as well as lemonade, smoothies, fries, and lots of other treats.
Don't let a restricted diet restrict your fun at the State Fair this year! Print out Northland Celiac Support Group's MN State Fair Vendor Gluten-Free Food List 2013 and bring it with you. Or if you have an iPad or mobile device you can read from, bookmark the link on your browser and tap it when you need it.
We want to make sure you enjoy your State Fair experience! Don't forget to enter the State Fair Ticket Giveaway on our Facebook page to win a pair of tickets. We may even throw in a Blue Ribbon Savings Book if we can find one lying around!
For all things State Fair related, visit www.mnstatefair.org.
Minnesota State Fair
State Fairgrounds
1265 Snelling Ave N
St Paul, MN 55108
(651) 288-4400
http://www.mnstatefair.org/
Like Minnesota State Fair on Facebook.
Follow @mnstatefair on Twitter.
Check out the MN State Fair on Instagram and Pinterest.