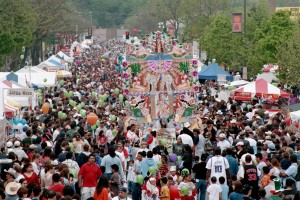 Okay, let's be honest. There's a lot more celebration of Cinco de Mayo all over the Twin Cites, but the Cinco de Mayo Fiesta in District del Sol on St. Paul's West Side is the biggest and baddest outside of the state of Texas, where naturally, they go big when they do anything.
The Cinco de Mayo Fiesta in District del Sol on St. Paul's West Side features entertainment stages, a children's area, a Cinco Sports Zone, a Community Wellness Village, a People's Choice Salsa Tasting Contest, a Photo Contest Area, a History Area, craft vendors, and plenty of authentic Mexican food.
There are also events to keep you busy and entertained. The biggest of those events is the Cinco de Mayo Fiesta Parade. Tens of thousands of people attend the family-friendly event to see floats from local community organizations, event sponsors, and authentic Mexican dancers and performers. The parade starts Saturday May 8 at 10 a.m.
For some urban car-show fun, check out the Lowrider Car Show & Hydraulic Showcase. See these decked-out lowriders defy gravity while partaking in the festivities. The show starts Friday May 7 at 4 p.m.
Let's not forget about the food! If you like it spicy, there's a People's Choice Salsa Tasting Competition for local restaurants and retailers to strut their stuff. Anyone can try these salsas and the best will be selected from among the contestants.
There will be something for everyone in this grand celebration which will be held in District del Sol, a multiple-block stretch of streets with its epicenter at Cesar Chavez St. and State St. in St. Paul. Check the map for details and directions.
For other Cinco de Mayo celebrations in the Twin Cities: http://minneapolis.about.com/od/eventsfestivals/tp/cincodemayo.htm

For more information: http://www.districtdelsol.com/docroot/cincodemayo.html