The Soap Factory Presents: The Haunted Basement
October 1 – October 31
Tickets $21 and available online at www.soapfactory.org
All participants must sign a waiver and be 18+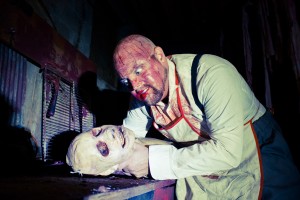 This October, The Soap Factory's Haunted Basement will once again shock and amaze horror fans, Halloween fanatics, and art lovers. Now in its 5th year, The Haunted Basement is again completely re-imagined and pushes past the limits of scary to that which is utterly disturbing. Come see what lies beneath the floors of this 125-year-old factory and experience what happens when art collides with horror.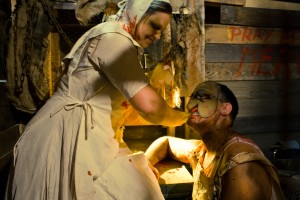 The Haunted Basement is no ordinary haunted house—it is designed entirely by artists. New each year, artists draw inspiration from unusual sources to create something unimaginably creepy and conceptually unique. The Haunted Basement targets real psychological fears and promises nightmares for weeks to come.
In The Haunted Basement's history over 300 people have been pushed to their breaking point and cried "Uncle." In 2010 one patron stated, "I'm drenched in sweat from being so scared." The Twin Cities Paranormal society has investigated The Soap Factory on multiple occasions, concluding that the basement is indeed, haunted. If the basement alone doesn't scare you, the custom smells made by St. Croix Sensory and amazing special effects makeup from artist Brett Dorrian will have you second-guessing reality and shuddering with terror.
Tickets sell out quickly for The Haunted Basement. Tickets can be purchased at www.soapfactory.org beginning August 1st. Buy yours soon or suffer the agony of having to wait until next year.
Imagined and Engineered by: Tom Loftus, Brian Green, Lawrence Mikesh, Liseli Polivka, Devin Grunke, Brett Dorrian, Benji Conklin, Altan Gurel, Birdie Freitag, Jud Kilgore, Julie Nelson, Francisco Benavides, Cody Lewis, Chris Sik, Eric Moen
Participating artists: Peter Rusk, John Fischer, Maria Gagnon, Paul Stucker, Justin Spooner, Ross Orenstein, Jeff Shockley, Billy Mullaney, Shannon Thorson, Natasha Satre, Leslie Kelman, Joan Vorderbruggen
Interviews, photo ops and press preview tours for press are available in September
Contact: Lillian Egner
Program and Volunteer Manager
lillian@soapfactory.org, 612.840.7702
The Soap Factory
514 2nd St SE
Minneapolis, MN
www.soapfactory.org
Like The Soap Factory on Facebook
Follow @TheSoapFactory on Twitter