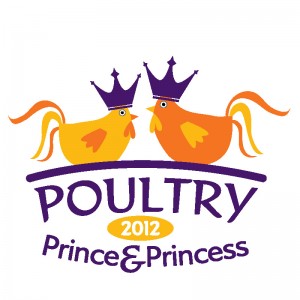 Looking for something new to check out at the fair, in addition to bacon ice cream and camel burger sliders? Visit the Sheep and Poultry Barn on Sunday, August 26 at noon to see poultry contestants compete for the Poultry Prince and Princess titles. Learn all about chicken at this family-friendly event sponsored by Minnesota 4-H, Gold'n Plump chicken and poultry enthusiasts like you from across the state!
After years of training, learning about poultry and showing chickens, Minnesota 4-H poultry participants will display their superior knowledge of America's favorite protein during the third-annual Poultry Prince and Princess Contest from August 23 through August 26, 2012 at the fair. The scholarship program of Minnesota 4-H and Gold'n Plump will recognize the knowledge, leadership and skills of the state's top poultry youth by awarding two teenagers with poultry ambassador titles and $1,000 academic scholarships.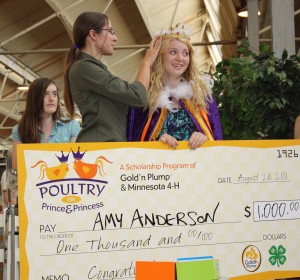 Similar to the top five announcement of the Miss USA pageant, the final round of this contest, question-and-answer session (where contestants will be grilled about their Minnesota poultry knowledge) and coronation of the 2012 poultryPrince and Princess will be held on Sunday, August 26 from noon to 1 p.m. at the State Fair's Poultry and Sheep Barn. Ample grandstand-style seating is available, so bring your kids, friends and fellow chicken lovers!
Event emcee and WCCO-TV reporter, John Lauritsen, will host this live event, and last year's winners – Brandon Severns and Amy Anderson – will be present to hand off their royal crowns and capes to the new poultry royalty. You can even snap a photo with the winners after the coronation!
Did you know that University of Minnesota research has shown more than 26,000 jobs depend on the economic viability of Minnesota's poultry industry of broiler chickens, eggs and turkeys? And, according to the USDA's July 2012 report, annual U.S. chicken consumption per person rose to 84.2 pounds in 2011. By comparison, beef declined to 57.3 pounds and pork declined to 45.7 pounds. In addition, Minnesota is the top state for turkey production in the U.S., with 250 family farmers raising approximately 49 million turkeys annually. That's a lot of bird!
Poultry Prince and Princess contestants will need to know facts like these to succeed in their quest for royalty, and chicken bragging rights for the coming year. Join us to see the competition and learn more about Minnesota poultry.
For more information, visit www1.extension.umn.edu/youth/mn4-H/events/poultry-prince-princess.
See the event page on Facebook and share with your friends.
Check out a video of last year's competition on YouTube.
Minnesota State Fair
Sheep & Poultry Barn
Judson Ave. between Liggett St. and Clough St.