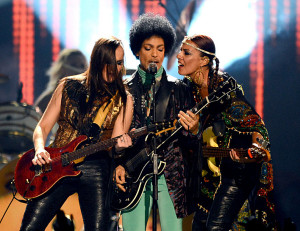 The Purple One, Twin Cities' own, Prince, will be performing live at Paisley Park on Saturday, October 5 with his longtime band, New Power Generation, and a new trio he's been developing for about a year, 3rdEyeGirl. Details on the event are vague, but expect old school, new school, and lots of dancing at this intimate party for loyal followers, locals, and anyone who wants to party like it's nineteen…er, two thousand thirteen!
Saturday, October 5 at 9:00pm
Paisley Park
7801 Audubon Road, Chanhassen
No tickets are required and none will be issued, no RSVP is necessary. The concert is free, though a $50 donation is suggested. There is no parking on-site, except vehicles with handicapped tags. A shuttle will be available for other guests. More information may be forthcoming.
Important to note – no alcoholic beverages, no cell phones or cameras of any kind, and no re-entry.
You can follow Prince – 3rdEyeGirl on Twitter for music videos and release information. Or visit their official website 3rdeyegirl.com.