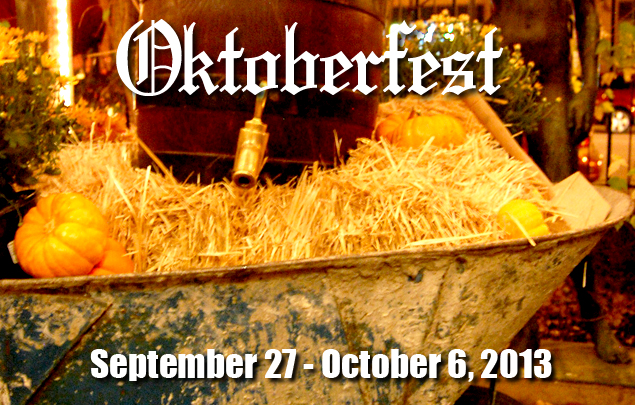 Fall is creeping up quickly on us. Not only does the weather switch from warm, humid days and sultry nights to cool, crisp days and pants-and-jacket evenings, but activities in the Twin Cities switch from summer to fall activities as well. Autumn ushers in a time for family outings to apple orchards, corn mazes, hay rides, Halloween haunts, and perhaps more importantly…there's BEER.
It's late September, which means Oktoberfest will soon be here again and The Black Forest Inn is bringing you 10 days of celebration, which include beer toasts, strongman competitions, tubas, Grimm stories, German food, and much more. And did we mention the beer?
Originally a wedding celebration, Oktoberfest began in the fall of 1810, when Crown Prince Ludwig of Bavaria was married. The celebration continued for two weeks and the idea of it has lasted for almost 200 years!
Oktoberfest 2013 at the Black Forest Inn kicks off Friday, September 27 with Prost! Night. The best way to start Oktoberfest is with a toast. You can read one provided by the Black Forest Inn or make up your own. Just stand up, speak from the heart, and remember rhyming is optional. Prizes will be awarded for the best toasts. Also on tap for the evening (see what we did there?), is live music from the Matterhorn Trio, who will be rocking their alphorns outside in the beer garden. A ceremonial keg tapping, restaurant-wide toast and a musical duo of horns and an accordion featuring Jim ten Bensel and Danny Malmberg will also be in store.
If you fancy yourself a sausage connoisseur, don't miss the Wurst Night of Oktoberfest on Monday September 30. Brats, sausages, and lots of condiments to slather on them sounds like heaven for the sausage lover. You deserve the best, so the Black Forest Inn will give you their wurst.
The brat bar is open from 5pm until 10pm and will have sundry bratwursts and sausages, relish, onions, fried peppers, sauerkraut, and lots of other goodies to top your brat. All the sausage goodness will run you $15. But there's more. It's also Grain Belt night! Buy any Grain Belt and get a logo pint glass free while supplies last. Let that be motivation to get there early.
Lots of great food and entertainment will be on tap along with all the varieties of beer. Live music. DJs spinning. A balloon release (99 biodegradable Luftballoons, anyone?). Prizes. Open tuba jams. Far too much fun to mention it all.
Just get your heiney over to The Black Forest Inn for as much of Oktoberfest as you can take. It starts September 27 and runs through October 6.
For more information and a complete schedule of events, visit the Black Forest Inn's Oktoberfest 2013 information page.
The Black Forest Inn
1 East 26th Street
Minneapolis MN 55404
(612) 872-0812
http://www.blackforestinnmpls.com
Like The Black Forest Inn on Facebook.
Follow @DasBlackForest on Twitter.