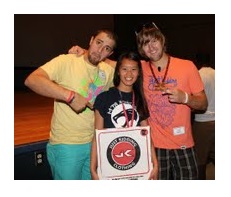 Exclusivity with a cause is the best way to describe Just Kidding Clothing. Their cause is provisions for local homeless youth. Your purchase provides one fresh meal for one hungry child/teenager in your area. They power this cause by the design and distribution of limited collection apparel. Each item is one of only hundreds, this stuff is exclusive. Just Kidding Clothing, a company created by the 20 year old minds of two Minnesota boys!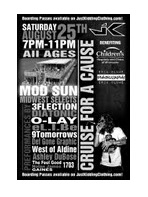 On top of apparel, 24 year old founders Travis Jerome and Kyle Weber host a yearly benefit in August called "Cruise for a Cause" benefiting Children's Hospitals and Clinics of Minnesota! They send 600 people on a 4 hour cruise down the Mississippi from Saint Paul floating on a boat filled with free food and 2 stages of love music. Look for this event in August, 2013! Motivating youth and educating students on entrepreneurship is another side of Just Kidding Clothing, you can find Travis and Kyle speaking in High Schools across the Midwest multiple times a week.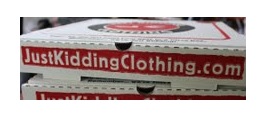 I am sure you are wondering about the pizza boxes, that is how your purchases arrives at your door!
Stay in touch with Travis and Kyle on JustKiddingClothing.com
Facebook: JustKiddingClothing
Twitter: Trav_JKClothing and JK_Clothing