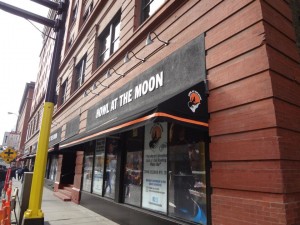 Get ready to howl, Twin Cities! Howl at the Moon, a high-energy dueling piano bar, will be hosting its Grand Opening in Minneapolis's Warehouse District this Friday, December 9th. But the party doesn't stop there! The good times will continue to rock 'n roll Saturday, December 10th, with free admission and food/drinks from 5 to 8pm (don't forget to reserve your ticket!).
So what exactly is Howl at the Moon? Howl at the Moon's website describes it as a "high-energy live music and dueling pianos bar." If you've never been to a dueling piano bar, dismiss any preconceived expectations (should you have any) prior to walking through the door because this is no typical night out on the town! Loud, live, and always entertaining, the dueling piano players take your song requests and make you (the audience) part of the show. "From Lady Gaga to Billy Joel: you say it, they'll play it!" Sing, dance, drink, and enjoy your favorite songs played live at Howl at the Moon.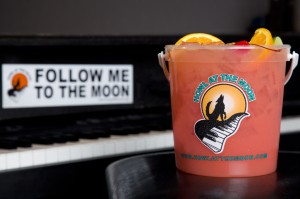 I recently had the opportunity to correspond with Michael Yates, National Marketing Director for Howl at the Moon, and ask a couple questions about the dueling piano bar's Grand Opening.
What can guests expect at Howl at the Moon? What kind of atmosphere does the bar have?
Michael: Guests can expect to walk into the biggest party in town, no question. From our high-energy live music show featuring dueling pianos, to our signature drink items such as 86oz buckets of booze and jello-injector shots, we make sure everyone has an awesome time from as soon as they walk in the door. We appeal to all ages, so expect to dance along side 20-somethings or even someone's grandma!
Are there any opening weekend promotions/specials?
Michael: Yes, we are hosting a party on Friday (which is sold out) as well as a Saturday night party. Tickets are available at http://howlsaturdayparty.eventbrite.com/ and will get you free admission and food/drinks from 5-7pm.
Michael was also courteous enough to include some interesting tidbits about the talented dueling piano players that work at Howl at the Moon (HATM):
• Many of the dueling piano players don't read music
• A dueling piano player can learn to play and sing an unfamiliar song within five minutes
• A HATM dueling piano players typically has over 300 songs memorized
Howl at the Moon's Grand Opening on Friday, December 9th may be sold out, but (free!) tickets are still available for Saturday night, so reserve your spot! Get your Saturday Party ticket here.
More information about upcoming events can be found on the Howl At The Moon Minneapolis website.
Like Howl At The Moon Minneapolis on Facebook.
Follow @HowlMinneapolis on Twitter.
Howl at the Moon
430 1st Ave
Minneapolis, MN 55401
612-333-1299
Email: minneapolis@howlatthemoon.com
Website: http://www.howlatthemoon.com