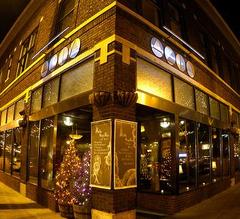 Welcome summer with Whittier's second Eat Street Excursion. The Excursion happens Thursday May 20th, 8-10 p.m., Friday May 21st, 5-10 p.m.
The section of Nicollet Ave. from Grant to 29th St. is also known as Eat Street, so named for its dozens of restaurants and markets. Eat Street has an option for every palate, from Greek food (Christo's, It's Greek to Me) and pizza (A Slice of New York) to upscale Asian Fusion (Azia) and sushi (Anemoni Sushi & Oyster Bar). There's German cuisine (Black Forest Inn), Chinese (Rainbow Chinese, Peninsula), American (Java, The Bad Waitress), a handful of excellent Mexican restuarants (Pancho Villa, Little Tijuana Cafe, Morello's Mex-Grill, El Mariachi, Los Amigos), and even bakeries (Marissa's Bakery, Sinbad Mideastern Bakery) and sandwich shops (Lu's Sandwiches, Jasmine Deli). For more info on Eat Street options, check out the reviews page at Urbanspoon.com.
During the Eat Street Excursion, Nicollet Avenue restaurants, grocers and shops will offer food, beverage and retail discounts and specials. There will be drawings for gift certificates and merchandise, and several excursion stops will have music or entertainment. Participating businesses will have festive decorations at their store front. On the 20th (tonight), check out the MIA's 3rd Thursday before heading to Nicollet for dinner and discounts.
Figure out what you're hungry for and head out to Eat Street and watch for deals on your favorite cuisine.