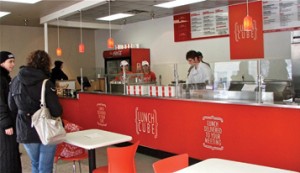 Anyone work in Downtown Minneapolis? For those that do, you know there is no shortage of Downtown spots for lunch. Some even deliver.
The Lunch Cube is a new place offering delivery to a good swath of Downtown and even a bit beyond.
At the Lunch Cube, you can get fresh-made-daily artisan sandwiches and soups. The signature deli sandwiches and Panini Sandwiches run $7.95 and include an Asian Chicken Sandwich, with roasted chicken and a peanut-lime sauce, fresh cilantro, carrots and tomato. Sound yummy? How about the Black & Blue–a Panini with roast beef, bleu cheese, and grilled onion with a red wine aioli? Try one of the other sandwiches such as the Ham & Brie Panini, the classic Basil Chicken or the Chipotle Tuna Sandwich.
Wraps, boxed lunch sets, soups, salads and sides are also available at the Lunch Cube. You can even make large orders with their platters.
Make your order online or call (612) 225-6800 to place an order by phone.
For more information, visit www.thelunchcube.com.
The Lunch Cube
1122 Harmon Place
Minneapolis, MN 55403
(612) 225-6800
http://www.thelunchcube.com/