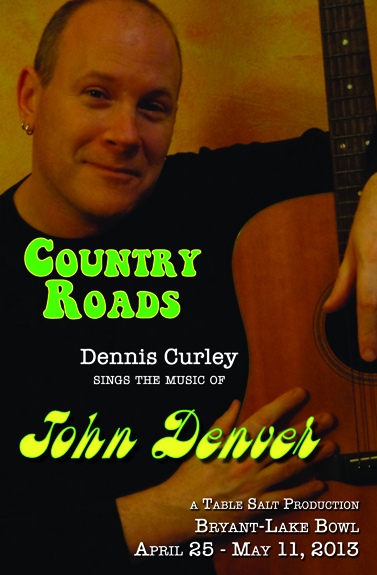 If you're looking for something to fill your Thursday, Friday, and Saturday nights for a couple of weeks, and enjoy songs that are heard too seldom, check out Dennis Curley singing the heart-warming classics of John Denver, starting tonight at the Bryant Lake Bowl.
No matter who or what age you are, you likely know at least a couple of John Denver classics. This musical evening celebrates Denver's songs, focusing on the hits and fan favorites, with a few deeper album cuts thrown in to mix it up. Dennis Curley's voice brings these songs to life in ways that transcend nostalgia while honoring the beauty of John Denver's vision.
Join Dennis Curley and his ace band of noted locals, including Tony Wirth and Leo Lenander of Blazing Saddles, Lisi Wright of The Galactic Cowboy Orchestra, and Natalie Nowytski of Orkestar Bez Ime.
Tickets are $18 for general admission and $16 for Fringe Button holders. Performances are April 25 – May 11, Thursday, Friday, and Saturday nights at 7pm at the Bryant Lake Bowl.
Whether you're a proud devotee, a casual fan, or indulging a guilty pleasure, you'll enjoy an evening of John Denver's music, performed with love and with soul.
Visit TableSaltProductions.com for more information.
Call (612) 825-8949 for reservations.
Bryant Lake Bowl
810 W. Lake St.
Minneapolis, MN 55408
(612) 825-3737
www.bryantlakebowl.com