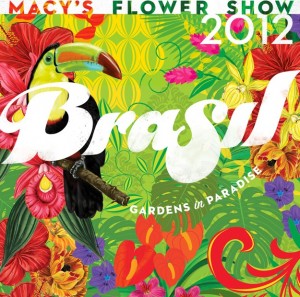 The wonderful early spring this year in the Twin Cities has been a welcome relief after last year's harsh winter. Fortunate as we are to be outdoors and free of snow, it's still not the tropics.
If you're still longing for some color and the sweet scents of summer, head to downtown to Macy's Flower Show, and experience a bold, lush world inspired by Carnaval, the samba pulse of Rio de Janeiro, and the vibrant Amazon rainforest plants and flowers of Brasil.
Brasil: Gardens in Paradise by Bachman's runs now through April 7, and is free to the public. A Bachman's Master Gardener will be available each day to answer questions about the flora in the show, and provide information about what you can grow in your own backyard.
Macy's 8th Floor Auditorium
700 On the Mall
Minneapolis, MN 55402
Macy's is open daily 10-8, 12-6 on Sundays.
Visit macys.com or bachmans.com for info about the show, floral designers, in-store events, dining, promotional tie-ins, hours, and more.
You can also find Macy's on Facebook and Twitter.
In partnership with Bachman's for 48 years, Macy's Flower Show has delighted generations of floral aficionados with spectacular presentations of gardens that showcase millions of live flowers, plants, and trees from around the globe.