Do you fancy yourself a gourmet cook? Or is your specialty macaroni and cheese from a box? Whatever your level or interest, there is a cooking class out there for you! This holiday season, we will be featuring great opportunities to brush up on your already mad skillz, learn something new and exotic, or just get started with the basics. Wow the new in-laws, surprise your girlfriend with a romantic dinner, attain legend status at the office potluck, or impress your friends at a holiday party.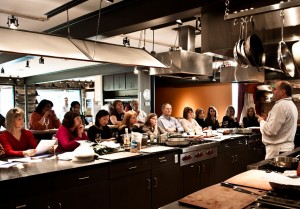 With Thanksgiving right around the corner, now is the perfect time to register for a $10 Turkey Day Celebration mini-class at Cooks of Crocus Hill on Saturday, November 19 at their Edina or St. Paul locations. Take just one or all three! Sign up online quick to reserve your spot.
Perfect Thanksgiving Turkey – 12:00 to 1:00 in Edina or St. Paul.
Learn all the secrets of preparing a juicy, mouthwatering turkey.
Menu: Giblet Gravy; Turkey Brine; Traditional Roasted Turkey; Quick and Easy Turkey.
Thanksgiving Side Dishes – 10:00 to 11:00 in Edina or St. Paul.
Round out your Thanksgiving menu with a few of Cooks' favorite side dishes. They're not only great for Turkey Day, but also go well with any fall meal.
Menu: Classic Mashed Potatoes; Sweet Potatoes with Pears; Roasted Brussels Sprouts with Aïoli.
Thanksgiving Desserts – 2:00 to 3:00 in Edina or St. Paul.
Simple but satisfying desserts to finish off your Thanksgiving dinner.
Menu: Fast and Easy Pumpkin Pie; Pecan Bars; Frozen Grand Marnier Soufflé.
877 Grand Avenue
St. Paul, MN 55105
651.228.1333
3925 West 50th St.
Edina, MN 55424
952.285.1903
For more information about Cooks of Crocus Hill or for a list of all upcoming classes, visit their website cooksofcrocushill.com.
About Cooks of Crocus Hill: Life happens in the kitchen. That's our belief, and we're sticking to it. For the past 30 years, Cooks has been the Twin Cities' industry leader in all things culinary. We were the first cooking school to bring nationally recognized chefs and cookbook writers to the Twin Cities, the first retail store to incorporate cooking classes and the first specialty gourmet store to directly import culinary products. And those won't be our last firsts. We're constantly growing, changing and challenging ourselves to bring the best products and experiences the food world has to offer to our customers.