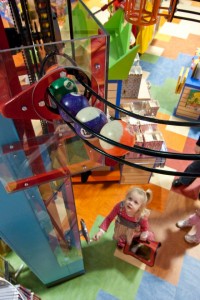 Can't think of the perfect gift for the kids on your shopping list this holiday season? Have no fear, Creative Kidstuff is here! With its fantastic staff of toy specialists, Creative Kidstuff will be hosting Personal Shopping Days Monday, November 14th through Wednesday, November 16th.
What happens on a Personal Shopping Day? Register for a specific time on any of the days of the event, and you will be given the undivided attention of one of Creative Kidstuff's many toy experts. Your personal shopper will help you find the absolute best gift for all of the children on your shopping list (as well as for those fun-loving adults you need to buy for too).
Along with the finest customer service you can ever imagine, if you participate in a Personal Shopping Day, you will receive a 20% discount on your entire purchase. What could be better?
How about free gift-wrap! Make an appointment for a Personal Shopping Day, and along with the complete attention of a Creative Kidstuff staff member, and a 20% discount on your entire purchase, you will receive free gift-wrap! That's right, free talk-of-the-town gift-wrap. We all know which present your kids will want to open first!
This is an event you definitely do not want to miss. Space is very limited and will fill up fast, so sign up as soon as you can! To register, you can give any Creative Kidstuff location a call. For a complete list of all Creative Kidstuff locations and phone numbers, visit www.creativekidstuff.com.
Creative Kidstuff
Store Locations and Hours:
Edina (Galleria)
3555 69th Street
Edina, MN 55435
952-926-4512
Open M-F 10-9; Sat. 10-8, Sun. 11-5
Maple Grove
11647 Fountains Drive
Maple Grove, MN 55369
763-424-2576
Open M-F 10-8; Sat 10-6; Sun 12-5
Minneapolis
4313 Upton Ave. S.
Minneapolis, MN 55410
612-927-0653
Open M-F 10-8; Sat. 10-6, Sun. 12-5
St. Louis Park (Shops at the West End)
1665 West End Blvd
St. Louis Park, MN 55416
952-540-0022
Open M-F 10-9; Sat. 10-9, Sun. 12-6
Saint Paul
1074 Grand Ave.
Saint Paul, MN 55105
651-222-2472
Open M-F 10-8; Sat. 10-6, Sun. 12-5
Wayzata
1135 E. Wayzata Blvd.
Wayzata, MN 55391
952-249-1707
Open M-F 10-8; Sat. 10-6; Sun. 12-5
Like Creative Kidstuff on Facebook.
Follow @CreativeKidstuf on Twitter.