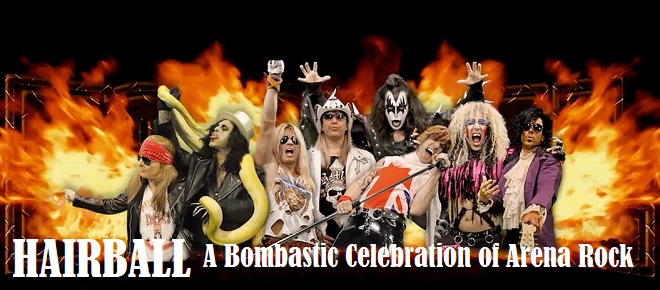 Taking the stage by storm this Friday night is HAIRBALL – A Bombastic Celebration of Arena Rock at the Medina Entertainment Center.
Based out of Minneapolis, HAIRBALL's Rockstar Bob, Joe Dandy and Kris Voxx on lead vocals bring to life the hits of Van Halen, KISS, Motley Crue, Queen, Journey, Prince and Aerosmith to name a few. They are backed by Freaky on electric bass, Blake on drums, and Happy on lead guitar.
"A band puts on a concert, HAIRBALL puts on an event." To do so, the stage becomes an entirely new rock concert several times a night.
It's their 13th year of bringing arena rock and hairbands to life and they have recently released their first single, "Make Some Noise". This tribute to Minneapolis based band, Slave Raider, is a cover from their 1988 album "Take the World by Storm".
You can be in their music video for the single, "Make Some Noise", by going to their video entry page. They have just one rule (Don't put anything in the video they can't use, i.e. trademarked items, logos, nudity etc.), if you follow the rule… YOU WILL BE IN THE MUSIC VIDEO. Instant rock star!!!!
Their special guest for the night will be Minnesota based Sweet Siren.
"Don't confuse Hairball with the countless "80's Tribute" bands across the country. Hairball is an experience, an attitude, and expression of music that isn't simply a retro flashback. It's a way of life, and it's not going anywhere soon!"
Medina Entertainment Center
Friday, October 11, 2013
Doors open 7:30pm
Music at 9:00pm
763.478.6661