It's that time of year again: the leaves have finally started falling off the trees, pumpkin-spiced drinks are everywhere, Pinterest is flooded with Halloween costume ideas, and Minneapolis is preparing to be taken over by a horde of rowdy (and probably a little tipsy) zombies. That's right, the 9th annual Zombie Pub Crawl is right around the corner. Hang onto your brains; this year's crawl is going to be the biggest one yet.
The first Zombie Pub Crawl ever took place in 2005 and consisted of a group of just 150 members of the walking dead. These individuals roamed the streets of Northeast Minneapolis, scuffling into bars and terrifying both bartenders and patrons who had no idea what was going on. This year, the crawl will bring a much larger herd of biters, and bars in Minneapolis are not only prepared for the lamebrains, they're enticing them with great music and drink specials.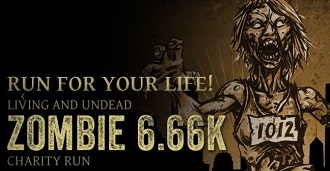 The blood-drenched festivities begin at 10 AM on Saturday, October 12th, with the 6.66k Zombie Charity Run. All ages are welcome to participate in this fun run which takes place on historic Main Street in Minneapolis. As a runner, you can choose to remain human and try to outrun the zombies (you will get a head start), or you can choose to be a zombie, and shuffle your way through the course after your human prey.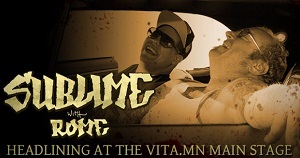 4:00PM is when the real party begins. The theme of Zombie Pub Crawl 9 is Quarantine, so this year's zombie horde (which is sure to be a record-breaking amount), will be lured into a giant cage in Minneapolis called the Quarantine Zone. Here, zombies can ride a giant Ferris, visit a variety of some of Minneapolis's best food trucks for some delicious snacks, sip on Grain Belt's exclusive Brain Belt beer, and watch the first ever World Brain-Eating Championship. There will also be an assortment of fantastic musical acts taking place in the Quarantine Zone, including Sublime with Rome, Flock of Seagulls, and a "Trapped in the Closet" zombie sing-along. What member of the living dead could resist?
Tickets are available for purchase online, and you can pick up your Zombie Pub Crawl wristbands at any Ragstock location around the city, where you can also load up on all of the various essentials you'll need for your zombie costume.
This year's Zombie Pub Crawl will be an event you definitely don't want to miss! For more information, visit http://zombiepubcrawl.com/2013.
Like Zombie Pub Crawl on Facebook.
Follow @zombiepubcrawl on Twitter.
Follow Zombie Pub on Pinterest.