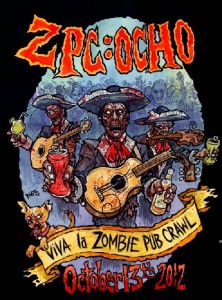 The zombie pub crawl lives on (well, sorta..), now entering its 8th year. Bury your clothes, pick up some gruesome makeup, and satisfy your lust for brains by joining the horde on Saturday, October 13th for ZPC Ocho: Viva la Zombie Pub Crawl! Last year the horde grew too large for one city, and zombies will continue to swarm both Minneapolis and St. Paul this year. Join fellow zombies in the West Bank neighborhood of Minneapolis and/or at "Zombie Island" aka the Midway Stadium in St. Paul.
Each year brings more fun festivities and surprises, and this year is no exception. Highlights include musical performances by the likes of DMX, the Gin Blossoms, Exodus, Get Cryphy and more! Check out the full ZPC VIII itinerary.
The folks from Guinness World Record will be there as well, so head on out to Zombie Island and help Minnesota claim its rightful place in the record book as the site of the "World's Largest Gathering of Zombies."
New this year will also be a Zombie Carnival, complete with rides, a 50-foot inflatable zombie, and fireworks!
In order to go, you must buy a wristband – order yours now before they sell out! General admission grants you access to all ZPC bars, all ZPC block parties, admission to ZPC concerts, including the headlining acts at the Cabooze and Zombie Island (Midway Stadium), unlimited rides on the carnival rides at Zombie Island, and free rides on the ZPC shuttles between the West Bank and Zombie Island.
VIZ (Very Important Zombie) packages are also available. In addition to everything listed above, VIZs get admission to five exclusive VIZ lounges throughout the crawl, each with its own luxury bathroom, plus complimentary beverages (10 free drinks) and snacks. VIZs also get free parking at Zombie Island (with shuttle transportation to the West Bank), a collectible tote bag screen printed by DWITT and Taisha Bosher, and exclusive access to areas near the Cabooze and Zombie Island stages to view the concerts.
"What do we want?
Brains!
When do we want 'em?
BRAAAAAINS!!!!!"
For more information, including participating bars and establishments, shuttle locations, makeup tips and more, visit zombiepubcrawl.com.
Like the Zombie Pub Crawl on Facebook.
Follow @zombiepubcrawl on Twitter.