Wixon Jewelers is known their incredible events featuring rare jewels, incredible diamonds and highly coveted watches and on Friday, June 7th they will live up to their reputation. They are hosting a special viewing of the world's fastest and most expensive exotic supercar, the 2013 Bugatti Veyron Grand Sport Vitesse, and limited production Bugatti timepieces from Parmigiani Fleurier.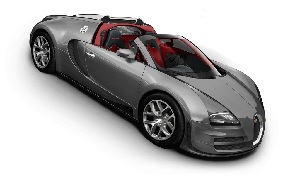 With a price tag of over $2.5 million and a top speed of 267 MPH, most people will never have the opportunity to see this incredible car in person. This is your chance to see an incredible vehicle and extremely rare Parmigiani Fleurier timepieces. Wixon Jewelers will welcome special guest Butch Leitzinger, American La Mans driver and Bugatti's professional racecar driver. He will be available to answer questions regarding the supercar. Wixon will also be presenting a large collection of Parmigiani Fleurier watches, including incredibly rare Bugatti timepieces.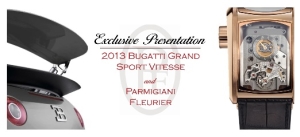 You don't want to miss this amazing opportunity! The one-day-only event will take place at Wixon Jewelers on the evening of June 7, 2013, with cocktails and hors d'oeuvres being served from 3pm -8pm
Wixon Jewelers is considered to be the premier jewelry store in Minnesota because of their incredible selection, helpful staff and one of a kind jewelry creations. They have been a staple in the community since 1998 when is was founded by Dan Wixon and the store still remains family-owned. The Wixon's pride themselves on having the greatest selection of jewelry in the midwest as well as the most knowledgeable staff in the country. They have an incredible selection of engagement rings but also specialize in quality watches, diamonds, gemstones and custom jewelry of all kinds.
If you're looking for a nice luxury watch, Wixon Jewelers is the place to go. Their collection of fine watches and timepieces is unprecedented; they carry all of the top Swiss watch brands including Patek Philippe, Panerai, Jaeger LeCoultre and more. Their collection of fine jewelry, diamonds, gemstones and pearls is equally impressive. Their large showroom houses incredible diamond, gemstone and fashion jewelry from top designers as well as custom pieces that are created in-house. Wixon has three jewelry designers and goldsmiths on staff that can design and create your dream piece of jewelry.
Wixon Jewelers hosts several exciting jewelry and watch events every year, and you don't want to miss them! Stay connected on with exclusive offers and event invitations with our text and e-mail clubs!
Text WATCHES to 96362 and receive a free watch bracelet cleaning ($100 value).
Text DIAMOND to 96362 and receive an offer for your next diamond ring purchase.
For more information: www.wixonjewelers.com
Wixon Jewelers
9955 Lyndale Ave S
Minneapolis, MN 55420
952-881-8862
Follow Wixon Jewelers to see fantastic jewelry on social media:
Facebook: Wixon Jewelers
Twitter: Wixon Jewelers
Pinterest: Wixon Jewelers
Google+: Wixon Jewelers