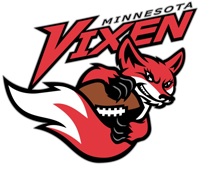 Sports in Minnesota is a big thing. You know about the MN Vikings, the MN Twins, the MN Timberwolves, the MN Lynx and the MN Wild, but have you heard about the MN VIXEN?
They represent us in Women's tackle football in Minnesota.
If you haven't heard of them, please get on the bandwagon. We should support all of our sport's teams!
This Saturday, May 24th at 7pm they are facing the Wisconsin Warriors in their 2nd home game of the season.
And we just happen to have 2 family 4-packs of tickets to check them out.
We will be choosing winners tomorrow May 22nd at noon.
Minnesota VIXEN
Tiger Stadium at Farmington High School
20655 Flagstaff Avenue, Farmington, MN
www.MNVixen.com
Facebook: MN Vixen
Twitter: MN Vixen
Check out the women of the Minnesota Vixen below!