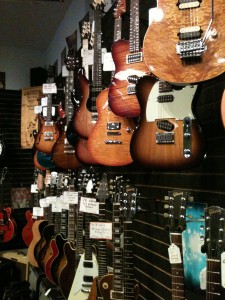 The Twin Cities are known across the county as having a vibrant and dynamic local music scene. With the wealth of talent in the area, those who are part of that scene need to get their gear somewhere, right?
Willie's American Guitars, on Cleveland Avenue at St. Clair in St. Paul has a ginormous selection of top-end vintage guitars, basses and amps. We're not talking re-issues either, although they do have some of those as well. We're talking real, previously-owned, axes that, in many cases, have been meticulously cared for. Some have some character in the form of road wear, but make no mistake. These beauties have some mighty mojo.
Looking for a 1950's Gibson ES-125? How about a 1967 Epiphone Riviera? Or the equally impressive Rickenbacker 620? If you're looking for a collector edition vintage axe, there's few places with the kind of selection offered by Willie's.
Add to that a first-rate customer experience with personal attention, lots of pedals, amps and accessories and you have a local music shop that's among the best.
I was out for a walk and dropped by this afternoon and ogled the Gretsches, Fenders, Gibsons, and the variety of basses and acoustic instruments for myself. I was like a kid in the proverbial candy store.
So what's the Holy Grail of guitars for you? Stop by Willie's American Guitars and check it out. They might just have it.
For more information, visit www.williesguitars.com.
Like Willie's American Guitars on Facebook.
Follow @williesguitars on Twitter.
Willie's American Guitars
254 Cleveland Ave. So.
Saint Paul, MN 55105
(651) 699-1913