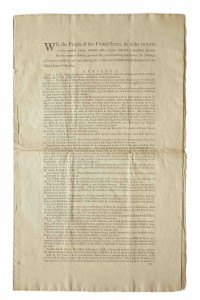 If you're a fan of the United States Constitution (and honestly, who isn't?), you're in luck! Between now and July 4th, the Minnesota History Center presents "We the People: The First Official Printing of the U.S. Constitution." The exhibit features a rare draft of the U.S. Constitution, an even more rare version of the Bill of Rights, and the original two copies of the state of Minnesota Constitutions.
The exhibit is presented by Thomson Reuters, and will, as Stephen Elliott, Minnesota Historical Society director and CEO states, "provide learners of all ages with a rare, first-hand look at how our government came to be."

Along with the exhibit, the Minnesota History Center is offering a multitude of public and educational programs to help the citizens of Minnesota to learn more about the founding the United States. Throughout the spring and summer, the Minnesota History Center will also welcome school-age children through filed trips. The field trips will offer admission to the exhibit at a discounted rate. For more information, to purchase tickets to events, or to schedule a field trip, call 651-259-3015, or visit www.minnesotahistorycenter.org/constitution.

Admission for the exhibit is the same as regular Minnesota History admission; $11 for adults, $9 for seniors and college students, $6 for children between the ages of 6 and 17, and free for children under the age of 5 and for Minnesota Historical Society members. The exhibit is also free for all ages on Tuesday evenings from 5:00 pm to 8:00 pm.

Given that this is an election year, these extraordinarily important documents could not have come at a better time. "We the People: The First Official Printing of the U.S. Constitution" will give Minnesotans the chance to remember what our country stands for; the establishment of justice, the insurance of domestic tranquility, the provision for the common defense, the promotion of the general welfare, and the security of liberty to "ourselves and our posterity" (U.S. Const. pmbl.).