Haters
by Christina Kalinowski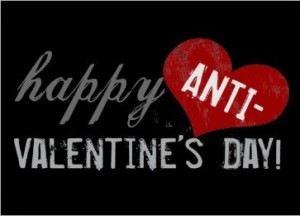 It's Valentine's Day, that one, special day reserved each year for partners to celebrate the love they share for one another, typically with the exchange of embarrassingly cheesy gifts and ridiculously over-priced dinners. Refusing to spend my precious spare time fretting over the purchase of the perfect V-Day gift or holding my significant other to unrealistic and short-lived expectations or feeling sorry for myself for not having found "The One," I choose to opt out of Valentine's Day festivities. Whether you are single or have a fantastic partner you refuse to subject to the silliness of a superficial holiday, check out these anti-Valentine's Day events and create a new tradition!


3rd Annual Cupid is Stupid, Drink Sake Party @ moto-i


"Don't have anybody to snuggle with this Valentine's Day? Neither do we, let's hang out!"
Take the edge off this alleged "holiday" with $3 sake all day! 


prix fixe on main floor 5-10

giesha gallery art opening 6-9 2nd floor

open mic 10-2
*The art show will consist of prints, paintings and photographs by local Minneapolis artists Emily Clingan, Mary Longshore, Cheston Otterness, Ross Moreno and Kasia Wasko.
A relaxing night sippin' sake may not be for everyone. If you are a true Valentine's Day hater looking to release some aggression, why not show your "love" in the mosh pit? Head on over to the Myth in Maplewood at 7:00 pm (doors at 6:00 pm) and rock out to Motorhead and Megadeth, with opening acts Volbeat and Lacuna Coil. 


Is moody and melodramatic more your adopted persona on Valentine's Day? For many there is nothing more insufferable than being reminded you are alone by having to endure a day filled with public declarations of love. They say misery loves company so join the ubiquitous Scott Seekins for his (free!) "Black Valentine" bash at the Kitty Kat Klub featuring live entertainment by shock rockers Mother's Tongue. Doors at 7:00 pm, and music at 10:00 pm. This is a 21+ event.


Whether you decide to ignore its existence or openly rail against all that V-Day represents, there is an anti-Valentine's Day event sure to satisfy and celebrate your dislike for "the commercialization of love."
Lovers
by Cori Nelson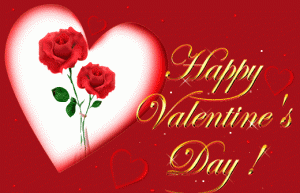 For the many fans of Valentine's Day, here are a couple last minute suggestions of what to do with that special someone.
Solera
This Valentine's Day, bring your better half to Solera, where Chef Jorge Guzman will prepare a delicious five-course dinner for you and your sweetheart to feast on while enveloped in the romantic atmosphere of the restaurant. The menu for the evening will include a salad, Piquillo Peppers, Smoked Salmon, Scallops, Braised Lamb, and Coconut Chiffon Cake.
For a more detailed look at the menu, visit http://www.solerarestaurant.com. To make reservations, call (612)338-0062.
The Nicollet Island Inn
If the food at Solera doesn't sound good to you, check out what Chef Adam Droski has planned for his Valentine's dinner at the Nicollet Island Inn. The Nicollet Island Inn has an over-the-top romantic vibe to begin with, but on Valentine's Day, the dining room will out do itself with its famous Valentine's Day decorations.
You can complete your trip to the Nicollet Island Inn by reserving a room for you and your love-bug, and by opting for a romantic horse-drawn carriage ride while you're there.
For a complete list of the five-course dinner menu, and to make reservations, visit http://www.nicolletislandinn.com.
There is no better way to say 'I love you' than with mounds and mounds of food.