Minneapolis is one of the top cities in the USA for bikers. We see tons of people taking advantage of this fact using the "Nice Ride" bikes that are from Metro Transit all around the cities or their own bikes on the many awesome bike paths! Rain or shine, they are out there and doing it up on 2 wheels!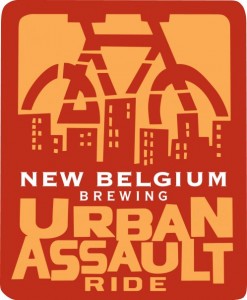 So with that being said, why not up your game to the next level? With that I bring you the Urban Assault Ride! A combination of bikes, crazy obstacles, New Belgium beer, and prizes. How is THAT for motivation. If you like to be out on your bike and enjoy having fun then the Urban Assault Ride is a perfect mix for you!
From their website, the Urban Assault Ride is…
The Urban Assault Ride™ is the biggest Bicycle Obstacle Event series in the nation! Here's how it works: You and your teammate will set out on a city-wide quest for 'checkpoints' on your favorite two-wheeled steeds. At each checkpoint, you'll drop your bikes and complete a funky/adventurous obstacle course, then remount your bikes and hit the streets for more.

The goal is to complete all the checkpoints in the shortest amount of time. You choose your own route and checkpoint order. This means that the most clever are often the victors. Of course, it may also help if you can pull a mean big-wheel powerslide and fly across an inflatable slip-n-slide 😉

After your pedal-powered adventure, your team will cross the finish line and enter a massive celebration of New Belgium Brewing Co's whimsical ways, bikes, and big wheels. The after party is just as much fun as the ride itself, thanks to the craziest raffle prize contest you'll ever experience.
There is still time to enter and be a part of this weekends event! Just go to https://www.bikereg.com/Net/15082 and sign up. Wait…would you like to save 50% on the fee? Just enter in code MSP365TC50 and you are HOOKED UP!
So just grab a partner/friend/fellow bike enthusiast and be a part of this awesome event!
For more information:
http://www.urbanassaultride.com
http://twitter.com/beerandbikes
http://adventurefitlife.blogspot.com/
http://www.urbanassaultride.blogspot.com/
http://www.facebook.com/urbanassault