By: Ryan Cunningham (BeyondTheTent.com)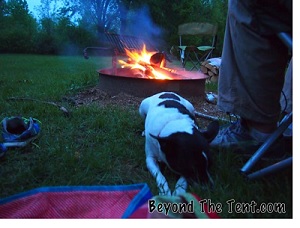 Did you know that the Minnesota State Parks receive over 9 Million visitors per year? That's right, camping is a big deal in Minnesota. This number doesn't even include the district / city campgrounds. That's enough camping for every person in Minnesota to camp 2 times every year (probably closer to 4 times when you add in city and district campgrounds). Have you been camping this year?
Within 60 minutes of just about any location in the Twin Cities there are plenty of camping options for just about every style of camper. Whether you want to get into the woods and experience nature or you want a nicely groomed campsite with playgrounds and room to run, it's all within a short drive.
Side Note: You will notice whenever I talk about a campsite I always mention their bathrooms. I have some seriously picky bathroom snobs in my family of 7 so I know how much good bathrooms can add to a trip and how a stinky dirty bathroom can make everyone feel gross.
Here are a few of your options:
Baker Park in Medina
Baker Park is located in Medina about 15 minutes outside of the 494 loop. Baker Park is part of the Three Rivers Park District.
Baker Park is an amazing campground. Baker is a large campground with grass campsites, a good amount of trees, a beautiful lake, large beach, playgrounds, hiking trails and even perfectly clean and updated bathrooms. If you're looking to get deep into nature, Baker is probably not your best choice but if you're looking for a great place where everyone in your family will have a blast than Baker is probably right for you. The most popular things to do at Baker are to spend time at their huge well kept beaches or bring your bikes and bike their many miles of beautiful paved trails. Read my full Baker Park review here.
William O'Brien State Park
William O'Brien is North-East of the Cities along the St. Croix River about a 35 minute drive outside of the 494 loop.
At William O'Brien you will find nearly every type of nature represented: prairie land, wet lands, lakes, rivers, woods and much more. William O'Brien is a great campground if you love to hike and enjoy nature. You can also canoe the St. Croix and learn all about the different animals and lands in the visitors center. The campsites are well groomed and very comfortable with clean, updated bathrooms. Read my full William O'Brien review here.
Wild River State Park
Wild River is also located North-East of the Cities along the St. Croix River about 50 minutes from the 494 loop but yet gives a different experience to campers than William O'Brien.
At Wild River the main difference you will find from William O'Brien is the campsites. The campsites at Wild River are cut straight out of the woods and groomed just enough to get campers in. You will find the campsites to be very private and shaded by the trees. This is the perfect campground to really get into nature. Kids will love playing in these campsites, but don't expect them to be able to run around open fields playing baseball or riding scooters on paved trails. Once again the bathrooms here are excellent. Read my full Wild River review here.
Still need a few good reasons to get out camping this Summer?
• Camping helps you bond with your family & friends. Especially if you leave behind the computers, tvs and cell phones. When you are camping you are forced to talk and have real conversation.
• Camping is good exercise. When you are camping odds are that you are getting more natural exercise. Setting up camp, walking , hiking even cooking take more work (in a good way).
• Camping relieves stress. This is true of all vacations, but camping has a special r ingredient, nature. Getting into nature minus the stress of work and home (plus a little vitamin D sunshine) really help to unwind all of the stress in your life.
Now get out and go camping! Need more ideas, tips or inspiration? Check out my family camping blog at BeyondTheTent.com