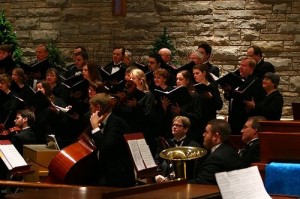 exult – 1. To rejoice greatly; be jubilant or triumphant. 2. (Obs) To leap upward, esp. for joy. [Lat. exultare, freq. of exsilire, the spring out: ex, out + salire, to leap.]
Take a break from the hectic pace of the season to experience and rejoice in its true meaning with the beautiful and uplifting music of the Exultate Chamber Choir and Orchestra as they present Tidings of Joy, a wide assortment of Christmas music for voices and instruments.
Highlights include:
A debut of a newly arranged piece called Silent 'Twas the Night
Ceremony of Carols by Benjamin Britten for women and harp
Franz Biebl's Ave Maria for men's voices
Favorites from Handel's Messiah
A unique repertoire of Christmas carols where the audience is invited to sing along
Concert dates are:
Friday, December 9 – 7:30 pm at Beautiful Savior Lutheran Church in Plymouth
Saturday, December 10 – 7:30 pm at St. Thomas Aquinas Chapel at the University of St. Thomas in St. Paul
Sunday, December 11 – 4:00 pm at Lake Nokomis Lutheran Church in Minneapolis
Order concert tickets online or call (651) 707-0727.
2011-2012 Season
Concert Tickets:
Adults $20.00
Seniors (65+) $15.00
Students under 16 $15.00
For more information and opportunities to support Exultate, and to purchase recordings, check out their website exultate.org.
Like Exultate on Facebook.
About Exultate (Egg-sul-TAH-teh): the new, the old, and the best in chamber music for voices and instruments. Exultate is the only professional choir in the Twin Cities with a self-contained orchestra. They have produced nineteen recordings, seven of Christmas carol arrangements, many written especially for Exultate. The other recordings are choral masterworks, and works for organ and piano. The group, now in its 16th season, was founded by conductor, Thomas D. Rossin.