It's almost here. You can feel it, can't you? Suddenly the humidity in the air is gone. The sun sets just a tad earlier. Back-to-school sales are popping up at a frenzied pace. You can't have a fruity cocktail without being pestered by bees. The sounds of cicadas disrupt the tranquility of the afternoon. It's the closing ceremonies of summer. And with it comes the one thing Minnesotans look forward to most of all.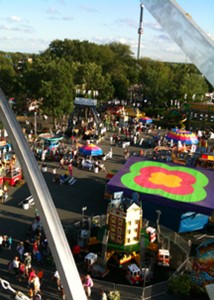 The Minnesota State Fair!
This year, 365 Twin Cities wants to be your personal guide to what's new, what's cool, what's fun, what's tasty, and what's hip at the State Fair. And we want you to experience it all! So every day we'll be highlighting something great at the fair. AND we'll be giving away a pair of tickets to one lucky winner.
For our first State Fair post, we'll give you the lowdown on all the basics, so you can refer back to it again and again.
This year, the Minnesota State Fair runs from Thursday, August 23 through Labor Day. You can find out all you ever wanted to know at mnstatefair.org but we'll tell you the most important stuff right here.
How much does it cost?
Adults   (13-64)  $12
Seniors (65+)     $10
Children (5-12)  $10
Children (0-4)    FREE
Don't forget discount days like Thrifty Thursday (8/23), Senior & Kids Day (8/27), Military Appreciation (8/28), Read & Ride Day (8/29), Seniors Day (8/30), and Kids Day (9/3)! And you can get pre-fair (buy before 8/22) discounted tickets at the box office and local Cub Foods stores. Grandstand show tickets can be purchased through etix.com.
How do I get there?
The fairgrounds are located at 1265 Snelling Avenue N in St. Paul. Parking is $12.
Visit metrotransit.org/state-fair for information on regular, express, and park & ride bus schedules, as well as information about biking to the fair. Express bus service is available from most suburbs and costs $5 per person. Park and ride service is free and available from multiple locations near the fairgrounds.
Is there an app for that?
Indeed there is. Visit the iTunes App Store or Android Market to download the free 2012 Minnesota State Fair app, and get all the tools you need right at your fingertips!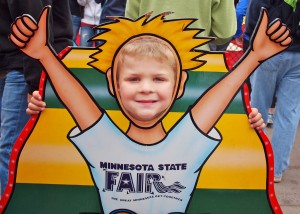 How accessible is it?
The Minnesota State Fair is committed to providing equal access and a pleasant experience for all guests. Services like wheelchair and scooter rentals, sign language interpreters, drop-off areas, and accessible seating are all available. Download a 2012 Accessibility Guide for full details.
Who will be there?
Um, like, everyone. Last year's combined attendance for all twelve days was 1,769,872!
Stay tuned, tomorrow we'll be telling you about everything that's NEW at the fair!