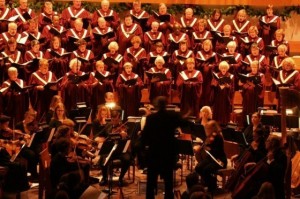 "The sublime, the grand, and the tender, adapted to the most elevated, majestic and moving words, conspired to transport and charm the ravished heart and ear."
These words, from a review of the first performance of Handel's Messiah, are as fitting today as when they were written in 1742. The Messiah is the time-honored story of Christ's Birth, Passion, Resurrection, and the promise of Redemption.
Rejoice this Lenten season with the Exultate Festival Choir and Orchestra, as they perform the Messiah in its entirety. Hear the whole story, experience the music, let the texts move you.
Friday, March 9 – 7:30 p.m.
Beautiful Savior Lutheran Church – 5005 Northwest Blvd, Plymouth, MN
Saturday, March 10 – 7:30 p.m.
Woodbury Lutheran Church – 7380 Afton Road, Woodbury, MN
Sunday, March 11 – 4:00 p.m.
Benson Great Hall, Bethel University – 3900 Bethel Drive, Arden Hills, MN
Tickets are $20 ($15 for students and seniors 65+), and are available at the door, or in advance with fast and convenient ordering on the web, or by phone (651) 707-0727.
For more information, opportunities to support Exultate, or to purchase recordings, visit their website exultate.org, or follow Exultate on Facebook and Twitter.
About Exultate (Egg-sul-TAH-teh): the new, the old, and the best in chamber music for voices and instruments. Exultate is the only professional choir in the Twin Cities with a self-contained orchestra. They have produced nineteen recordings, seven of Christmas carol arrangements, many written especially for Exultate. The other recordings are choral masterworks, and works for organ and piano. The group, now in its 16th season, was founded by conductor, Thomas D. Rossin.