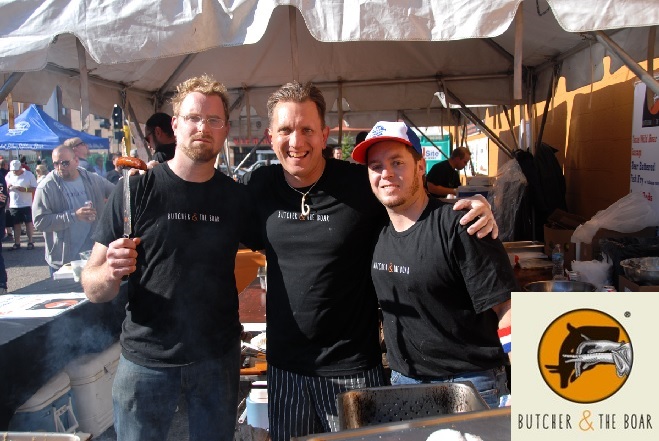 It's that time of the year again. Fall has finally descended upon us in a flurry of crisp mornings and chilly nights. It's the time of year when cozy sweaters, pumpkin-spiced lattes and apple cider are on everyone's minds. Are oysters and sausages part of that list as well? They are for me (why is it that only food reminds me of fall?)! And, where this fall can you get your fill of delicious beer, oysters and sausages? The answer is at the Butcher and the Boar's Third Annual Boar Festival!
Presented by the Butcher and the Boar Sausages, the Third Annual Boar Festival will take place this year on Sunday, October 6th from noon to 10PM at the Butcher and the Boar restaurant in Minneapolis. It is being advertised as a day filled with live music, sausage, beer and bourbon, and if it's anything like last year, it definitely won't disappoint.
Admission is free to this all day event; how could you refuse? Come hungry, because the menu includes both grilled and chilled oysters, the Butcher and the Boar's signature cured meats, as well as a wide selection of the Butcher and the Boar sausages. Is your mouth watering yet? Mine is.
To wash down all of that deliciousness, the Butcher and the Boar will be offering a full line up of Fulton beers as well as a special drink menu featuring exclusive Knob Creek single barrel bourbon.
This year's Boar Fest is going to be a huge party. Not only will you be able to munch down some of the most succulent sausages in Minneapolis, you'll be able to enjoy some great music as well. The line up this year is spectacular: featuring Solid Gold, Davina and the Vagabonds, Jack Brass Band, Luke Warm and the Cool Hands, Drew Peterson and the Dead Pigeons, and City on the Make. The music will take place on two stages in the Butcher and the Boar's beer garden and the parking lot. That's right; this party is going to be so big, it will encompass two full areas.
So, if you're looking for something to do on October 6th, head on down to the Butcher and the Boar. It's sure to be a great way to spend an early fall day.
For more information, please visit the Butcher and the Boar's website at www.butcherandtheboar.com