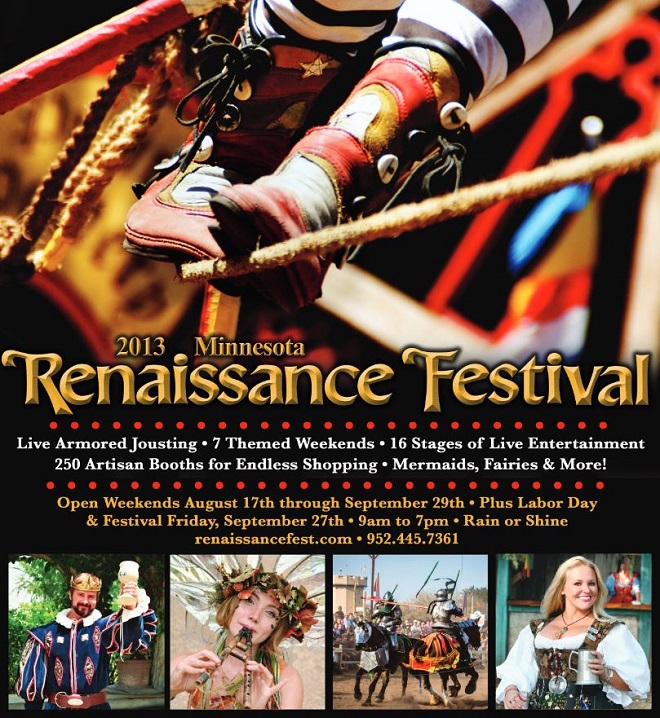 I know you are saying to yourself, "I wish someone else could figure out what I can do this weekend"!
Well stop looking cause here is the list!
At this time of the year, no "To Do" list would be complete without mentioning the glorious weekends at the Minnesota Renaissance Festival. So you can be assured, this is a complete list (or at least enough to cover a lot of bases)!
Renaissance Festival weekends through 9/29, renaissancefest.com
Drawn from Nature, MN School of Botanical Arts presented at the Bakken Museum, 9/10-9/14 and 9/17-9/21 (last week),
Love and Marriage, Illusion Theater at the Cowles Center 9/12-9/25
MN Artists in the 1970s, Minnesota Museum of American Art, mmaa.org, ongoing through 9/20
Fool for Love at the Jungle Theater, jungletheater.com, 9/6-9/20
Cowgirls at the Old Log Theater, oldlog.com, 9/5-9/20
A Prairie Home Companion at Fitzgerald Theater, 9/14
WWII Architectural Tour at Historic Fort Snelling, historicfortsnelling.org, 9/15
Oktoberfest at Gasthaus Bavarian Hunter Stillwater, gasthausbavarianhunter.com, 9/12-9/22
Mill City Museum 10th Birthday Party, 9/14
Faribault Balloon Rally and Art Fest, faribaultairfest.com, 9/14-9/15