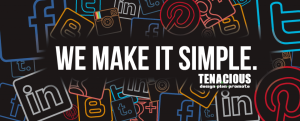 At 365 we're kicking off 2013 with a year of supporting local businesses, and we can't think of a better way to get started than by featuring our pals at
tena.cious, a branding agency in the Twin Cities that specializes in designing your image, planning your marketing goals and promoting the awareness of your business. Under the leadership of Tena Pettis, tena.cious (see what they did there?) develops and implements a plan to suit the numerous backgrounds of their clients to achieve their desired objectives through strategic brand marketing.
tena.cious offers a variety of different services broken down into 3 basic processes: 1) design, 2) plan, and 3) promote. Within these processes, the team offers consultation, strategy, SEO, training, and photography and design services as well as website creation and social media management.
If that weren't enough, Tena and her crew also offer training for businesses, and even have a daily tip for businesses to manage their brand in a socially connected business environment.
The fine folks at tena.cious receive rave reviews from clients, who toss around words like "simplicity," "professionalism", "creativity", and "enthusiasm" with gusto.
Get the skinny from Tena herself in this video from their website:
The 365 team has partnered with tena.cious on a few projects and found them to be a joy to work with – smart, efficient, effective, disciplined, and fun.
More info: tenaciousedge.com
tena.cious
370 Selby Avenue, Suite 301
St. Paul, MN
(612) 618-0298
Connect
Facebook: tena.cious
Twitter: @tena_cious
LinkedIn: tena.cious
Pinterest: tena.cious
Would you like to receive free promotion for your business on this blog and our social media streams? Simply tell us about your business to get started. Hurry, though. Limited to 365 businesses for this year.