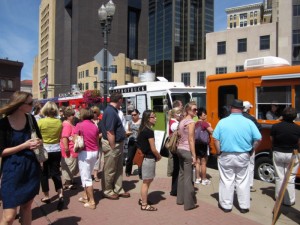 To many of us, summer means picnics, al fresco dining, happy hours on the patio, and barbecues in the back yard. But to those who work their 9-to-5 jobs all summer long, grabbing a quick bite at a food truck may be the best they can do during the week.
The Twin Cities has a number of food trucks serving a variety of different types of foods on street corners in the summer time. Today, we're taking a look at a few of the food truck options available to the working stiffs among us.
The Smack Shack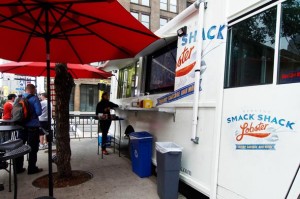 On Marquette between 6th & 7th
Twitter: @Smack_Shack
Facebook: facebook.com/SmackShack
Website: smack-shack.com
The Smack Shack is a mobile seafood truck that boasts the best Lobster Roll in the city, state, and possibly, the whole country. While the Lobster Roll is what put them on the map, they also serve up some tasty shrimp, sausage, Po' Boys, and lots more. There's always a line at The Smack Shack, and there's a good reason for it.
128 Mobile Café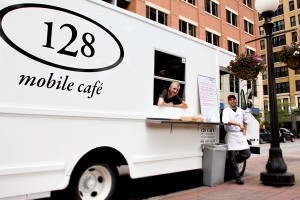 Downtown St. Paul
Near Kellogg & Wabasha on Wednesdays
Twitter: @128Cafe
Facebook: 128 Café
Website: 128cafe.net
You'll notice a lot of similarities between 128 Mobile Café and their cozy eatery on Cleveland Avenue in St. Paul. The food from their mobile kitchen is basically the same, but is served differently. Famous for their 128 BBQ Baby Back Ribs, their truck will have you coming back for more and more of those smoky sweet and tangy treats in their just-right lunch portions.
Fork In The Road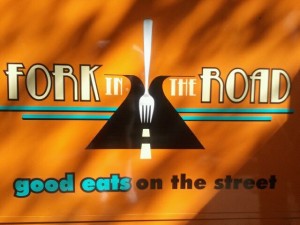 Lowertown St. Paul, Mears Park
Near Kellogg & Wabasha on Wednesdays
Twitter: @forkNroadtruck
Facebook: Fork In The Road Truck
Website: forkintheroadtruck.com
Fork In The Road is a favorite among the St. Paul lunch crowd. In fact, they often sell out when they're at the Capitol. Menu selections range from the commonplace, such as quesadillas and pasta salads, to the more uncommon. They serve sliders, including a salmon slider, and a variety of grilled cheese sandwiches, the most notable being the pulled pork grilled cheese.
Dandelion Kitchen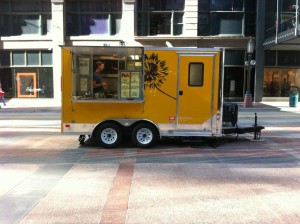 Near the IDS Center on Nicollet
Twitter: @dandelionktchndfs
Facebook: facebook.com/DandelionKitchen
Website: dandelionkitchen.com
The Dandelion Kitchen is a bright yellow truck that graces Nicollet during weekday lunches. Known for locally sourced and often organic offerings, the mobile kitchen serves the health conscious and foodies who prefer to support the local farmers. Try a specially crafted sandwich like the ham & brie with a housemade soda such as lemon ginger or rosemary grapefruit.
Chef Shack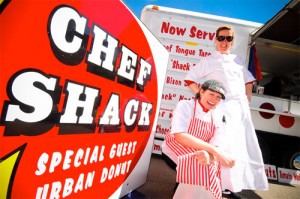 Various Farmers' Markets
Near Kellogg & Wabasha on Wednesdays
Twitter: @chefshack1
Facebook: Chef Shack
Website: chefshack.org
Another mobile kitchen that supports local and organic farmers, the Chef Shack has some unusual offerings for the lunch and farmers' market crowd. Try the bison burger or the tongue tacos (that's right, tongue). Folks line up and keep this kitchen hopping most of the time. Want to try something a bit unusual? Try the Indian spice mini donuts.
World Street Kitchen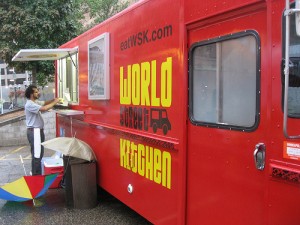 Near 5th & Nicollet LRT Station
Twitter: @eatwsk1
Facebook: facebook.com/eatwsk1
Website: eatwsk.com
World Street Kitchen is the brainchild of brothers Saed & Sameh Wadi, the guys behind the award-winning Saffron Restaurant & Lounge. Serving up international cuisine from Morocco to Vietnam, this truck satisfies your craving for the exotic. After your meal, indulge in the salted caramel ice cream sandwich.
Barrio Truck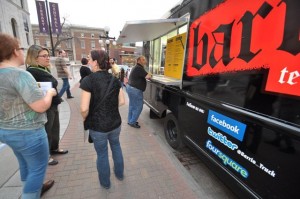 Near 4th St. & 1st Ave.
Twitter: @Barrio_Truck
Facebook: facebook.com/BarrioTruck
Website: barriotequila.com/Barrio_truck
The menu constantly changes, but you can expect everything from Barrio Truck's kitchen to have the same great taste and spicy flavors as they serve up in their Tequila Bar & Restaurant locations. Serving up an assortment of their tacos, burritos, salsas and guacamole, you can also get Jarritos beverages in a variety of flavors.
This, of course, is a sampling of some of the more popular food trucks in the Twin Cities, and is by no means an exhaustive list. What would you add to the list? Feel free to comment below.
We should also note, as long as we're on the subject, that Canterbury Park is hosting the Canterbury Park Food Truck Festival on Satuday August 13th. The gates open at noon and the first race start at 1pm. More than 10 food trucks will be onsite catering to hungry race fans, including:
128 Café
Smack Shack
Natedogs
Grill Works
Fork in the Road
Eli's Donut Burgers
Simply Steve's
World Street Kitchen
Hola Arepa
Gastro Truck
Vellee Deli
More info on the day's festivities can be found at the Canterbury Park Food Truck Festival page.
Canterbury Park
1100 Canterbury Road
Shakopee, MN 55379
(952) 445-7223 or (800) 340-6361
http://www.canterburypark.com/