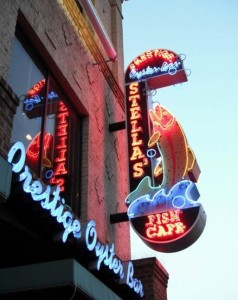 To quote Stella's Words of Wisdom, "Give a man a fish and he will eat for a day. Teach a man to fish and he will still prefer to be given a fish." Fortunately at Stella's, there's plenty of fish (and lobster, king crab, and oysters, steak, ribs and pasta) to go around.
The options are practically endless here: happy hours early and late, nightly specials (namely Lobster Lovers Sunday and Crab Lovers Thursday), seating at the oyster bar, the liquor bar, downstairs and upstairs dining rooms, or channel your inner Tom Collichio and book the kitchen table. In season, enjoy On Top of Stella's for the city's best rooftop deck, book a corporate event, join the Big Tuna Club to get special perks for birthdays and anniversaries.
Online: http://stellasfishcafe.com
On your mobile: http://stellasfishcafe.com/mobile
Call: 612-824-TUNA or book a table online.
Like Stella's Fish Cafe and Prestige Oyster Bar on Facebook.
Follow @Stellasfishcafe on Twitter.
Hours of Operation:
Sun. thru Thurs. 11:30am to 1am, kitchen open till 11pm
Friday & Saturday11:30am to 2am, kitchen open till 12:30am
Lunch Served Daily
Dinner Menu Starting at 4pm
Conveniently located in Uptown (view map):
Stella's Fish Cafe
1400 West Lake Street
Minneapolis, Minnesota 55408
1/23/2011 – Get 50% off Whole Maine Lobster Dinner for Four at Stella's at http://bit.ly/365dealstork