This week we brought you The Basics and The Advanced of the State Fair. Before diving in to our daily posts of what to listen to, what to eat, what's free, and what you can't miss at the fair, we thought we'd tell you about what's NEW at the fair this year! So if you think you've already been there, done that, you're wrong. Even the most experienced fairgoers can experience something totally unique. And there are so many, we can't even list them all.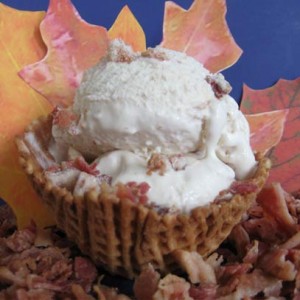 NEW TREATS
Buckle up (or maybe unbuckle up later), because there are at least 35 new food items to try this year. Here are some that we thought sounded the most…interesting.
Bacon Ice Cream. Arguably the world's best food, you knew bacon would find its way into something equally decadent. Try it at Rainbow Ice Cream, at any of their five locations.
Cheeseburger Sticks. You can put anything on a stick at the State Fair, and cheeseburgers are no exception. These are wrapped up in pizza dough and served with pickles and ketchup. Get them at Green Mill in Baldwin Park.
Duke's Poutine. The Canadian comfort food comprised of french fries, cheese curds and gravy has made its way south of the border. Duke's Poutine is a new vendor located on Judson Road.
Gluten-Free Hot Dogs. Indulge in a State Fair classic even if you're dietarily restricted. Chicago-Style or State Fair-Style. At Chicago Dogs.
Lamb Fries. Not for the timid, this Middle Eastern dish of breaded and deep fried lamb testicles is served with traditional dill dipping sauce. Boldly go to the Holy Land Deli in the International Bazaar for this delicacy.
Sweetie's Delights. Batter-dipped mashed sweet potatoes on a stick, served with powdered sugar and fresh whipped cream. They're at Mr. Potato & Sweetie near the Horse Barn.
Yosemite SAMwich. Tasty vittles for all you flea-bitten varmints. Taco meat with nacho cheese and barbecue sauce, bacon bits and crispy onions. Hightail it to the Frontier Bar on Carnes Avenue.
NEW THRILLS
New to the Midway. There are seven new rides on the Mighty Midway this year, including the Orbiter, the Freak Out, the Sizzler, and the Stratosphere. Maybe do that before downing the new foods, or at least space them out. Your call. Also new to the Midway is the World of Wonders Palace of Illusions, a trip back to carnival sideshows of the past with fire eaters, sword swallowers, and escape artists.
SkatePark Lessons. Test your skills as a BMX biker or boarder. $20 gets you a 20 minute lesson from the pro riders from 3rd Lair in the X-Zone.
Laser Hitz Show. Dancing laser lights fill the air and the big screen with color in this show, presented by Lasertainment, specially choreographed to everyone's favorite music. Secure your spot at Cosgrove and Randall early for the nightly 9pm show.
Boy Scouts Adventure Summit. Kids ages 5-15 can go rope-climbing and zip-lining on a mini-version of a Boy Scout base camp at Fort Snelling. Brought to the North Woods by the Northern Star Council Boy Scouts of America.
Luminarium. Not just your backyard inflatable bouncy castle, the 11,000 square-foot maze of sensory spectacularness was dreamed up by UK firm, Architects of Air. Open 9am to 9pm every day. Admission is $4 and is wheelchair accessible. Located east of the Pet Center on Cooper Street and Murphy Avenue.
NEW CULTURE
If you're more the highbrow type and come to the fair for something other than the plebeian greasy food and scary ride fix, check out some of these attractions meant to educate and stimulate your mind.
12'12'12: Twelve Artists, Twelve Hours, Twelve Days.  Get a peek into the workspace of an artist. Stop by the Fine Arts Center, where every day a new artist will be creating a new piece of sculpture, print, photography, drawing, or 3D media.
Minnesota DNR Exhibit. Learn about threatening invasive species, like the emerald ash borer, buckthorn, and zebra mussels, that the Department of Natural Resources works daily to combat. See confiscated trophy antlers and a celebrity fish-filleting contest at the DNR Building.
Minnesota Craft Brewers Guild. Learn a little about how craft beer originated in Minnesota, chat up brewers, and sample craft beers from over 15 Minnesota breweries in the Agriculture Horticulture Building.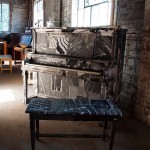 Pianos on Parade. You'll find these refurbished and artistically rendered pianos all over St. Paul to encourage spontaneous outbursts of music. Do you play? Dazzle fellow fairgoers with your talent, or watch others tickle these funky ivories in Baldwin Park.
As always, check mnstatefair.org for details about these and all the great attractions at the 2012 Minnesota State Fair!
Stay tuned for more giveaways and what MUSIC you can find at the fair!