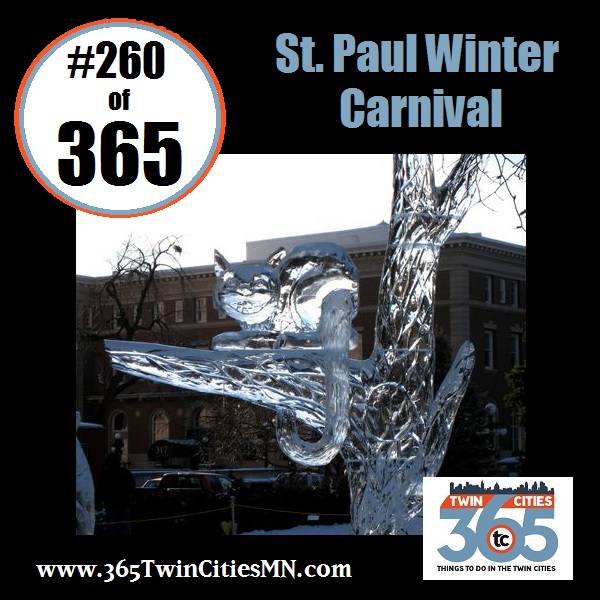 It is that time of year again for a perennial favorite of the Twin Cities, the St. Paul Winter Carnival!
And it is about time to remember why we stick around year after year in the cold weather.  There are some things you can get here, you can't get any where else in the country.  It would really be hard to have an ice sculpture competition (as well as snow sculpting) without the cold temperatures to keep these masterpieces intact.
In past years we have covered the St. Paul Winter Carnival here: http://www.365twincitiesmn.com/day-260-saint-paul-winter-carnival/ and here: http://www.365twincitiesmn.com/st-paul-winter-carnival-2012/ .
As well as covering fun activities at the Carnival like the Winter Beer Dabbler and the Ice Sculptures.  
This year they have some new and fun events to check out. 
Moon Glow Parade, Thursday, January 23rd, 5 p.m.
Check out this parade as it is open to all ages and is free.  This is the official kickoff of the 128th Saint Paul Winter Carnival – the Moon Glow Parade.  Join the Saint Paul Chamber of Commerce in their lobby at 5 p.m. for hot chocolate, cookies and a chance to mingle with other Winter Carnival fans.  At 6 p.m. follow hot air balloon baskets through the streets of Saint Paul to Rice Park where live music from McNally Smith College of Music will get you into a partying mood.  An ice bar will be open and will be serving Summit Beer and Cannon River wine, including the new King Boreas wine!
At Rice Park stage check out Mad Science of Minnesota

Mad Science of Minnesota will be entertaining the crowd with a performance on Saturday, January 25th at Noon at the Rice Park Stage.  After the show, Mad Science will have interactive booths available to keep people of all ages busy and other activities will be available.  The performance and activities are all part of Energy in the Park presented by Xcel Energy.
So it is time to put on the outdoor gear and join other Twin Cities goers at the St. Paul Winter Carnival starting tomorrow!