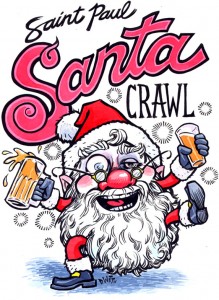 Don your gay apparel, drink, and be merry at the Third Annual St. Paul Santa Crawl, happening this Saturday, December 10th.
After a well-deserved recovery from the Zombie Pub Crawl the organizers have decided to lend a helping hand with this year's Santa Crawl, trading blood-thirsty zombies for jolly old St. Nick. Join in on the holiday fun by dressing up as Santa (Mr or Mrs), a reindeer, an elf, a gingerbread man (or woman), or just wrap yourself from head to toe in tinsel (or maybe even dress as a zombie Santa… just a thought!).
The Crawl will begin at 5pm, with participating bars offering drink specials and festive activities/entertainment. It is rumored that Santa Crawl highlights will include themed photo booths, "carol-oke," and even a reindeer petting zoo (with live reindeer!). Check out the participating Santa Crawl bars for more information:
Amsterdam
Billy's on Grand
Eagle Street Grille
Groveland Tap
O'Gara's
Patrick McGovern's
Plum's Bar – (651) 699-2227
Shamrock's
Tiff's
The cost to attend the Santa Crawl is $20, with a portion of the proceeds benefiting Toys for Tots, an organization that spreads holiday joy to children who are less fortunate. Also, if you bring a toy to donate during the crawl, and you'll get an extra special Christmas present!
Wondering how you'll travel from bar to bar? Walking is an obvious choice, but if the weather/distance to the next locale/level of intoxication makes it an unappealing one, feel free to hop on a designated party bus and enjoy a cozy ride to your destination.
Tickets for the Santa Pub Crawl can be purchased online and printed out. Bring your printed ticket to any participating Ragstock location (Uptown, Roseville, Mall of America) or Twin Cities Magic and Costume in St. Paul and exchange it for a wristband. (You can pick up as many wristbands as you want, as long as you have a printed ticket for each wristband). And while you're there, take advantage of fantastic discounts on your Santa Crawl costume purchases!
Didn't order a wristband ahead of time? Don't worry, wristbands can also be purchased during the crawl at any participating bar. Didn't make it to a designated pick-up location prior to the Crawl? Pick it up at the Will-Call table at Amsterdam Bar & Hall the day of the Crawl.
Note: Wristbands are required to participate in the Santa Crawl! There are a limited number of wristbands available, so the earlier you get them, the better.
Don't be a Scrooge: dress up, drink, drink, and be merry! at this year's Santa Crawl.
Visit the St. Paul Santa Crawl website at www.stpaulsantacrawl.com.
Like St. Paul Santa Crawl on Facebook.
Follow @STP_SantaCrawl on Twitter.