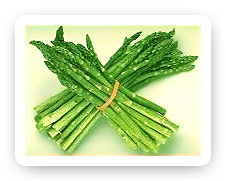 Germans go verrückt for asparagus (spargel) this time of year. In Germany, as here, asparagus is a sign of spring. Or, as they say in Germany, asparagus is the "Joy of Spring." It's safe to say that to the Germans, asparagus is more than just a weird vegetable with a funny name.
In the latter part of May, the Black Forest Inn will devote a menu to the noble asparagus. Fresh, local asparagus will be served in lots of creative and delicious ways. Asparagus with pork? Yep. Asparagus with chicken? You bet! Asparagus with fish? Why not?
Try asparagus strudel (seriously), soup, or salad. Try it wrapped, roasted, mashed, souffléd…even infused with vodka to make the signature Spargletini. Not an asparagus lover? Give it a try. You might just surprise yourself.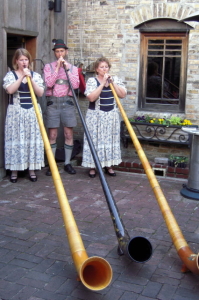 Spargelfest kicks off Friday May 24th, 2013 in the most festive way possible – with Alphorns. The Matterhorn Trio (pictured) starts things out with the magical sound of these 12-foot horns. After that, stick around for Mark Stillman on Accordion, and Dale Mendenhall on Clarinet.
Here's the lineup for live music:
Friday, May 24, 2013
6:30 – 7:30 pm Matterhorn Trio (Alphorns)
7:30 – 9:30 pm Mark Stillman (Accordion) and Dale Mendenhall (Clarinet)
Friday, May 31, 2013
6:30 – 9:00 pm Dreamland Faces (an accordion and saw duo)
Also, on Friday, May 31, the Black Forest Inn will donate 20% of their food sales to Harvest for the Hungry, a program of the Emergency Foodshelf Network.
Win a CSA Share
Enter the Spargelfest drawing for a Summer Share from Turnip Rock farm. Enjoy a 3/4-bushel of farm-fresh produce every week for 16 weeks this summer. Convenient drop sites metro-wide. A $500 value! Drawing entries available at the restaurant. Entries taken through June 2. Winner will be drawn June 3.
Fresh as Fresh Can Be!
The freshest possible asparagus will be served throughout Spargelfest. The green asparagus is brought to you by the Southeast Minnesota Food Network, a collaborative effort to change the way southeast Minnesota purchases and consumes food. The participating farms operate under guiding principles of sustainability, land stewardship and fair prices. For more info visit www.southeastmnfoodnetwork.com.
More information about Black Forest Inn and Spargelfest can be found at blackforestinnmpls.com.
The Black Forest Inn
1 East 26th Street
Minneapolis, MN 55404
(612) 872-0812
http://blackforestinnmpls.com
Like the Black Forest Inn on Facebook.