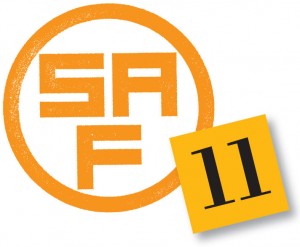 If you are the kind of person who enjoys local art and culture, then this year's joint Seward Arts Festival and Franklin Frolic may be exactly what you are looking for! Mark your calendars for Friday, December 2nd, and Saturday, December 3rd so you don't miss out on two days dedicated to local art, culture, community and more!
For the first time the Seward Arts Festival and the Franklin Frolic are rollin' together for a weekend packed with art, culture, and entertainment. For 12 years now, the annual Seward Arts Festival has focused on showcasing local artists in the Seward neighborhood, featuring an Art Crawl that offers attendees the opportunity to view local art in the homes of some of the artists.
The Franklin Frolic, now in its 3rd year, is an event dedicated to celebrating the arts – including music, dance, and theatre – and provides a venue for local artists to display and sell their creations. And don't forget to check out the beautiful lighting displays along Franklin Avenue.
Don't let the frigid Minnesota weather get you down; heat things up by attending the "Fire and Ice" themed Seward Arts Festival and Franklin Frolic!
Listed below are a few itinerary highlights:
FRIDAY, December 2, 2011
Art Crawl Preview – 5 to 7 pm
Kick-off Party – 6:30 to 10 pm
Don't forget to check out the Performance Artists at the Playwrights Center while enjoying food and wine!
SATURDAY, December 3, 2011
Art Crawl and Franklin Frolic – Noon to 5 pm
Lighting Ceremony at Triangle Park – 5 to 6 pm
For a more detailed itinerary and event locations, check out the maps and schedules below:
View the schedule of activities (PDF).
View the map (PDF).
Check out the interactive map!
For more information on the weekends events, contact:
Kerry Cashman
Community Organizer
Seward Neighborhood Group
kerry@sng.org
612-338-6205, x119
Visit sewardarts.org.
Like the Seward Arts Festival on Facebook