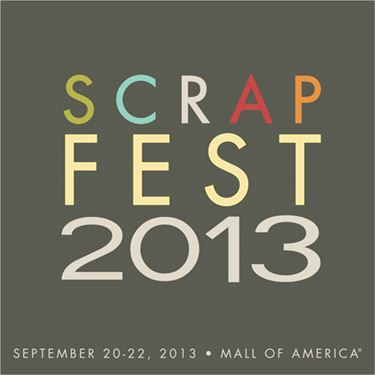 Are you a busy family with photos of vacations, birthday parties, day trips, weddings, baby showers, girls weekends, and tailgating all locked up trapped in a laptop or computer somewhere? Or school pictures, class pictures, and endless sports pictures thrown into a box or taking up space on your refrigerator? It's time to liberate them and show them off creatively. Don't wait until a week before your fourth-grader's high school graduation before organizing your memories.
Join ScrapFest 2013 at the Mall of America this weekend (September 20-22) where you can get ideas and inspiration from expert designers, artists, and scrapbookers. The entire mall will be taken over by hundreds of vendors with the latest and cutest paper goods, embellishments, stamps, books, crafting tools, or anything you need to create spectacular and creative designs that you'll treasure for a lifetime. Sign up for workshops, do a Make & Take project on the fly, or just mingle with fellow scrappers. Doesn't matter if you're a total newbie or if you've been doing this for years, this is for you.
A $20.00 badge (available on-site or at any local Archiver's stores) gets you unlimited access to participate in any activities. Or if you want to just browse, shop, and talk to creative experts, that's perfectly free.
Friday & Saturday – 8:00am to 11:30pm
Sunday – 8:00am to 7:00pm

Mall of America 
Archiver's – 3rd floor East Side near Bloomingdales'
2501 Killebrew Drive, Bloomington
952-858-8292
For more information visit the ScrapFest 2013 official website scrapfest13.com