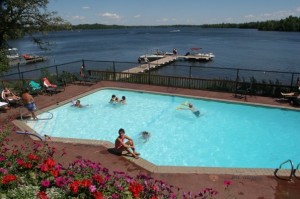 Enjoying a fabulous weekend away in the Minnesota Northwoods is only a two-hour car ride from the Twin Cities. Nestled on Bay Lake in Deerwood, MN, Ruttger's Bay Lake Lodge offers infinite possibilities for enjoying the best of what Northern Minnesota has to offer.
A family-centered lodge, Ruttger's has been in operation since 1898 hosting families from across the country. You can choose lodging based on what type of experience you want — vintage cabin cottage, modern northwoods villa, golf view condo or even a hotel style room.
Each day offers new and unique opportunities for all members of your family at their lodge. Mom and the girls can go and get spa services at the Fine Line Salon & Spa where mom can have a "Caribbean Therapy Body Treatment" and the girls can have an "M&Ms pedicure." While the girls are checking out the spa, dad can hit the links at Ruttger's 18-hole championship course. When the family wants to meet up together, you can play shuffleboard, rent a pontoon, fish off the dock, rent bikes, hang at the beach or swim in one of their pools. When mom and dad want some alone time, Ruttger's has a Kids Kamp where kids enjoy outdoor games and nature hikes while mom and dad do their own thing.
When its time for your crew to eat, you have several spots to choose from including the renowned Ruby's, known for their for great buffet and tasty walleye. Or if you have a good day fishing you can fry up your own dinner in your room with a full kitchen. You won't have to worry about not having your iced latte each morning because Auntie M's Kaffeehaus is a full service coffee bar complete with specialty
drinks, pastries and ice cream.
Ruttger's has some great deals over the summer including certain weekends when kids eat and stay free. There are several great activities coming up for Father's Day weekend including: unlimited golf, high stakes bingo with root beer floats, a dads triathlon and even beer tasting!
For more information, visit www.ruttgers.com.
Facebook: www.facebook.com/Ruttgers
Ruttger's Bay Lake Lodge

P.O. Box 400
25039
Tame Fish Lake Road

Deerwood, MN 56444
(218) 678-2885
Toll Free: (800) 450-4545

Fax: (218) 678-2864