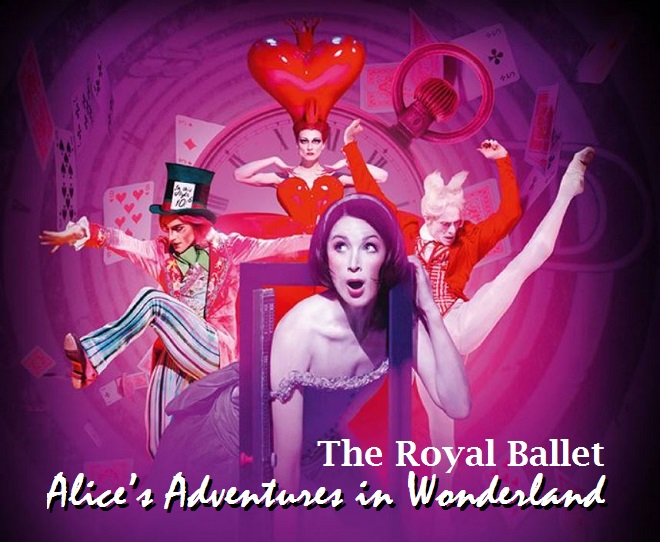 Fathom Events is screenings the Royal Opera Ballet's ALICE'S ADVENTURES IN WONDERLAND. If you're not already familiar, these screenings show the live performance of the show at our local theaters, a convenient alternative for someone who's unable to see a live performance!
Fathom Events and the Royal Opera House are partnering for the second year in a row to present the 2014/15 – Royal Ballet Cinema Series. Broadcast from London's Covent Garden, The Royal Ballet, led by Director Kevin O'Hare, is Britain's largest ballet company. The Company has a wide-ranging repertory showcasing the great classical ballets, heritage works from Founder Choreographer Frederick Ashton and Principal Choreographer Kenneth MacMillan, as well as new works by the foremost choreographers of today, Christopher Wheeldon and others. Fathom will be offering five titles beginning in October and running through May, four of which will be captured live and one prerecorded title. The event will also feature 15 minutes of behind-the-scenes footage including interviews with the artists and rehearsal footage.
We have 2 family four packs to the performance at Regal Cinema in Brooklyn Center on December 16th. Winners will be chosen on December 10th!
Please email us at 365twincities@gmail.com with your name and address to register to win a family four pack of tickets.
2014-15 ROYAL OPERA BALLET cinema series events
12/16 ALICE'S ADVENTURES IN WONDERLAND
Program Length: 3 hours 25 Minutes
• Event Start Times: 7:00pm Local
• Rating: Treat as "PG rating"
• Average Ticket Price: $18 Adult/ $15 Senior/Child
Alice's Adventures in Wonderland – Christopher Wheeldon's full-length ballet based on Lewis Carroll's book is an exuberant piece of storytelling featuring an instantly recognizable cast of characters, among them a tap-dancing Mad Hatter, a tetchy White Rabbit and a raucously bad-tempered Queen of Hearts. Wheeldon, along with composer Joby Talbot and designer Bob Crowley, have created a genuine family ballet in the spirit of Carroll's much-loved children's classic. While regular ballet goers can appreciate nods to other famous works – there's a parody of the Rose Adagio from The Sleeping Beauty, for example, with jam tarts instead of flowers – the ballet is above all a brilliant realization of Carroll's zany dream-world featuring stunning choreography, a colorful score and ingenious stage-magic.
Tickets also available for purchase at participating theater box office locations and online. For more information visit: http://www.fathomevents.com/event/roh1415-alices-adventures-in-wonderland