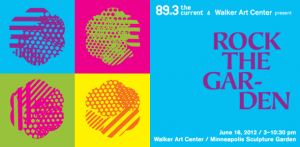 Summer is just around the corner, and with that comes one of the most anticipated outdoor music festivals Minnesota has to offer: Rock the Garden! This annual summer music festival takes place at the Walker Art Center in Minneapolis. Organized by both the Walker Art Center and Minnesota Public Radio, Rock the Garden is an event you do not want to miss!
Minnesota has a vast amount of great local music to offer, and each year, at least one local artist is featured in the line-up. This year has all previous years beat. Among the five groups featured, three are local bands. Who said good music isn't home grown?
This year's Rock the Garden line-up features Howler, Tune-Yards, Doomtree, Trampled by Turtles, and The Hold Steady.
In previous years, tickets for the festival have sold out faster than you can say, "I'm not a member!"  This year's Rock the Garden is no exception; tickets went on sale today to members of Minnesota Public Radio and the Walker Art Center, and are already sold out!
Don't be too discouraged, though, while you may not have had the chance to purchase tickets to this year's show, you can always become a member of Minnesota Public Radio or the Walker Art Center and be the first in line next year! You can also win tickets by listening to 89.3 The Current.
Rock the Garden takes place on Saturday, June 16th. It's going to be a rockin' good time!
For more information, visit minnesota.publicradio.org/radio/services/the_current/rock-the-garden