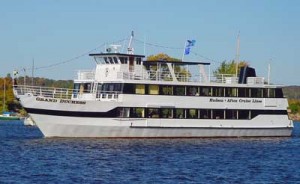 One of the best parts about autumn is enjoying the crisp cool air as the season drifts by making the way for winter. If the mere thought of the white fluffy stuff coming your way makes you bitter then why not take a dinner cruise down the St. Croix and hold on to fall just a little longer?
On the evening of October 22 (6-9pm) you can board the Grand Duchess in Hudson, WI and satisfy your palate with dinner from the Historic Afton House. Sounds Brilliant right? But it gets better, a portion of your ticket purchase will go toward Three Villages, One Vision. This project is part of the grassroots development projects of war survivors in Northern Uganda.
After years of displacement the communities of Northern Uganda are coming together to rebuild and provide for the residence of three local communities. So for $50.00 you will eat a delish meal, meet some new people and take in the sights and sounds of the St. Croix all the while staying toasty warm with the glow of your giving hearts.
Saturday, October 22nd
6-9pm (must board no later then 5:45pm)
$50.00 per ticket
For more detailed information including making reservations and directions, visit guluprojects.wordpress.com/river-cruise
To buy a ticket or make a donation via PayPal, click here.
To RSVP, visit the Facebook event page.
Afton-Hudson Cruise Lines
500 1st St.
Hudson, WI 54016
(651) 436-8883