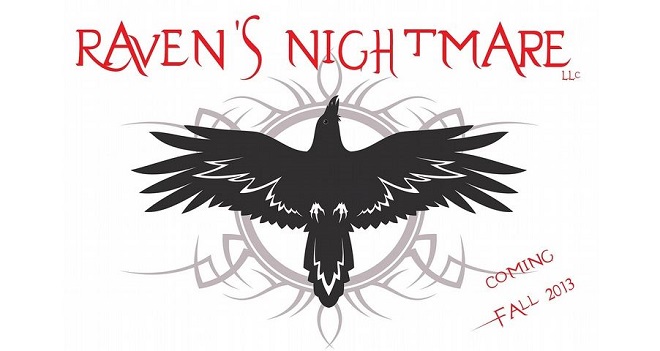 Not many people can say, "It's been a childhood dream to own a haunt," but that is exactly what Allen Schmidt is living these days. With his wife Amy and 5 children, ages 11 to 22, they own and are operating Raven's Nightmare in Mankato. The Schmidts said a part of the fun of starting up this new venture has been working together as a family and all have taken ownership of the haunt and put in many hours of work to get it up and going.
Located behind Affordable Towing (which has added abandoned cars to the atmosphere of the haunt), this dream was made possible by Allen and Amy purchasing all the goods from the Dark Shadows Mansion after it ended its run at Drummers Garden Center and Floral.
With the purchase of extra goodies and some planning the dream is a reality opening on October 4th.
Outside broken down, abandoned cars and zombies "greet" you when you enter the haunt through the "Zombie Alley". Hay bales are blocking the way offering no quick escape. Inside is to remain a mystery until the patron enters a set of elaborate, engaging, horrific maze of themed rooms. "Oh no, I won't go in (when it's open)," says Amy Schmidt.
"It'll be a carnival atmosphere," says Allen, with Family Fun Shows setting up three carnival rides on the lot as well. There will also be food for sale and live bands performing.
Along with the family working at the haunt, the Schmidts hired numerous people, some with an acting background, to work at the attraction. The couple gave the employees some leeway in coming up with their characters. Except … "'Boo' is not allowed. No 'boos,'" Allen said.
What: Raven's Nightmare haunted attraction
When: 7-11 p.m. Oct. 4-5; Oct. 10-12; Oct. 17-19; Oct. 24-26; and Nov. 2. The haunt will not be open Halloween or Nov. 1.
Where: Behind Affordable Towing at 600 Summit Ave., Mankato
Tickets: $13 each, or VIP tickets are $26, which allow users to skip to the front of the line. Only 200 VIP tickets will be allowed nightly. All tickets are for sale on the website. $2 off coupons are available at Hilltop HyVee and the Shell station on 3rd Avenue
Info: ravensnightmare.com or search for Raven's Nightmare on Facebook