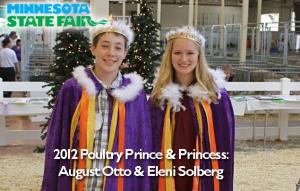 Because we're a large metropolitan area, things like agriculture, farms and 4-H may not cross your mind too often. But to a group of area teens, that's something they think about a lot.
It's State Fair time again, and that means Gold 'n Plump and Minnesota 4-H will once again bring you the Poultry Prince and Princess Contest from August 22 through the 25, 2013. Teens from the area will compete for the title of Prince and Princess, become ambassadors for the poultry industry in the state of Minnesota, and vie for $1000 in academic scholarships.
Sunday August 25 at noon, WCCO-TV's John Lauritsen will host the 4th annual coronation ceremony in the State Fair's Sheep and Poultry Barn. Last year's winners, August Otto and Eleni Solberg (pictured) will be there to hand off their crowns and royal robes to the newly crowned prince and princess.
Contestants will be interviewed and quizzed, and will be allowed to show off their stage presence as well as their culinary skills in the BBQ contest.
This year's 2013 winners will become ambassadors immediately following the coronation with an appearance in the State Fair Parade on the 4-H car.
Winners will also receive:
* $1,000 scholarships
* Official portraits in royal garb created by 2013 State Fair artist Marie Olofsdotter
* Opportunities to expand speaking, interview and presentation skills through industry and publicity appearances
Application deadline is 10am on Friday, August 23, 2013, at http://z.umn.edu/4hpoultryprinceprincess.
According to research conducted at the University of Minnesota, the poultry industry is responsible for some 26,000 jobs in Minnesota and is an $800 million industry. Additionally, farmers raise 47 million chickens annually, according to the Chicken and Egg Association of Minnesota (just don't ask them which came first). According to the January 2013 USDA report, annual U.S. chicken consumption per person was 81.4 pounds, whereas beef consumption per person was 55.4 pounds and pork 45.6 pounds, making chicken America's favorite protein.
Stop by Sunday August 25 to see the new royalty crowned, and then make their first public appearance in the parade. Get all the plump, juicy (see what we did there?) details about the Minnesota 4-H Poultry Prince and Princess Contest.
Poultry Barn
Minnesota State Fair
1265 Snelling Ave N
St Paul, MN 55108
(651) 288-4400
Like Gold'n Plump on Facebook.
Follow @GoldnPlump on Twitter.
Check out their Poultry Prince & Princess board and others on Pinterest.